Here are both our bathrooms.
Main floor half bath is 5 x 5 and has a 10' ceiling. In the original house, it was the butler's pantry but was converted to a bad, bad half bath in 1949.
I got our carpenter to make a non-working transom-ish window. Love it. Can't tell this used to be a solid wall, can you?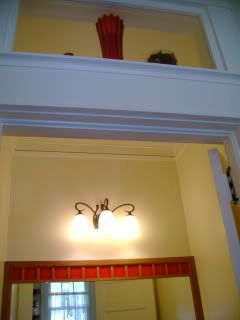 I drew the vanity on a napkin and he made it, too. The top of cherry wood sits on a copper sink. The toilet sits just to the right. If you've seen one, you've seen them all.
On to the full bath. I designed this and chose the items. Husband refinished the dresser, and just nodded his head when I said what I wanted/liked. Carpenter did the baseboards, etc., to look original, and made the medicine "chest".
As you enter, you see my grandmother's wedding dresser.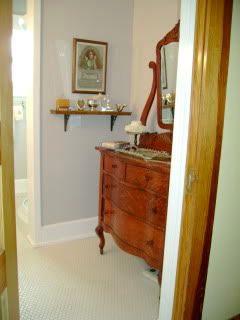 Then you see the entire bathroom. Keep your eye on the half-wall which looks like a room divider.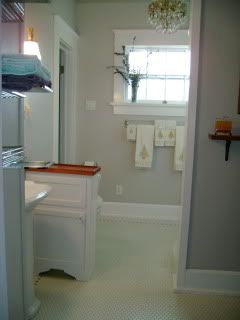 Voila, it is not a room divider after all. It is a rolling medicine "chest." It backs up to the toilet's back. I'm serious, even those 2-3 inches behind the toilet tank were not to be wasted.
On to the shower area... I heard that grey is the hot decorator color this year.
Back in 1949, the owner make our full bath into two COMPLETE bathrooms, both 5 x 7. In 2007, we restored it to its original size. But we kept the door to the master bedroom. There is also a door to the hall.
Isn't it funny how we have to design around ALL of the quirks? We had two doors, one big window, and one chimney, yet we have to get all the necessary parts of a bathroom fit in, also. By the way, I put a picture of my chandelier in the picture forum for most unusual parts of my house.