Well guys, I figured I'd start this thread up now. I've been waiting to start this project for years and years now, and I finally get my chance! Here's the story on it, from my first/intro thread "A how old is it thread". By the way, a little info on me. My name Is Cody, and I live in Martin Georgia. This is my first house, third home restoration, and I'm 21.
Hey guys and girls. Been snooping around, figured I would join up. You guys have some beautiful houses by the way, man, I wish I owned one like that. Well, here's the story on it. My grandfather and his family moved into this house when he was 7 (Can't recall his age now). The house consisted of one room, a small living room, and a kitchen. My grandfathers family built onto it, and it became 4 room, with a back porch. He raised my father, uncle, and 2 aunts here. Once they moved out, he knocked down the wall rooms, making it have a large living room. He then built himself and my grandmother a big room of to the side, and added a new kitchen, and a new front porch. Now the side room roof has collapsed due to holding up a tree from a tornado, the roof in the living room has leaked and rotted the floor out in a spot. It's rotted in about a 4 foot radius. I removed the carped today, and found the floor joists seem to be as good as they were when first installed. (They don't make them like they used to..) Anyway, I was asking him about it the other day, and he actually tossed me the keys, and said "Good luck". Boy, what a way to start a project.. haha. I'm looking to restore it for 2 reasons. The first being, I would like to keep it in the family. Second, me and my fiance are going to need a place once she gets out of collage. At least I have 4 years to fix her up. Ok, a few things that might tip you off to how old it is. First off, the floor that was there when built, is made of (what looks to be) 1x4's. Theirs 2 layers making up the floor. Second: the back porch has "asphalt" siding stuff on it. The stuff that looks like brick, but it reminds me of a shingles. It's so old, that it doesn't have a foundation. It's literally sitting on rocks. Not bricks or cement blocks, but rocks. The only part that has a black foundation is the porch my grand dad built. It looks funny really.. Here are a few photos of it. I have since killed the bees that had taken over (It's been abandoned over 25 years..) and the smell.. yeah. Do not want.
Here are some photos. Here is a photo of the house form my yard. This photo was taken roughly 5 minutes after I got the key. I was walking up to the house to open it up, and peek inside. I have cut that jungle I now can call a lawn since then.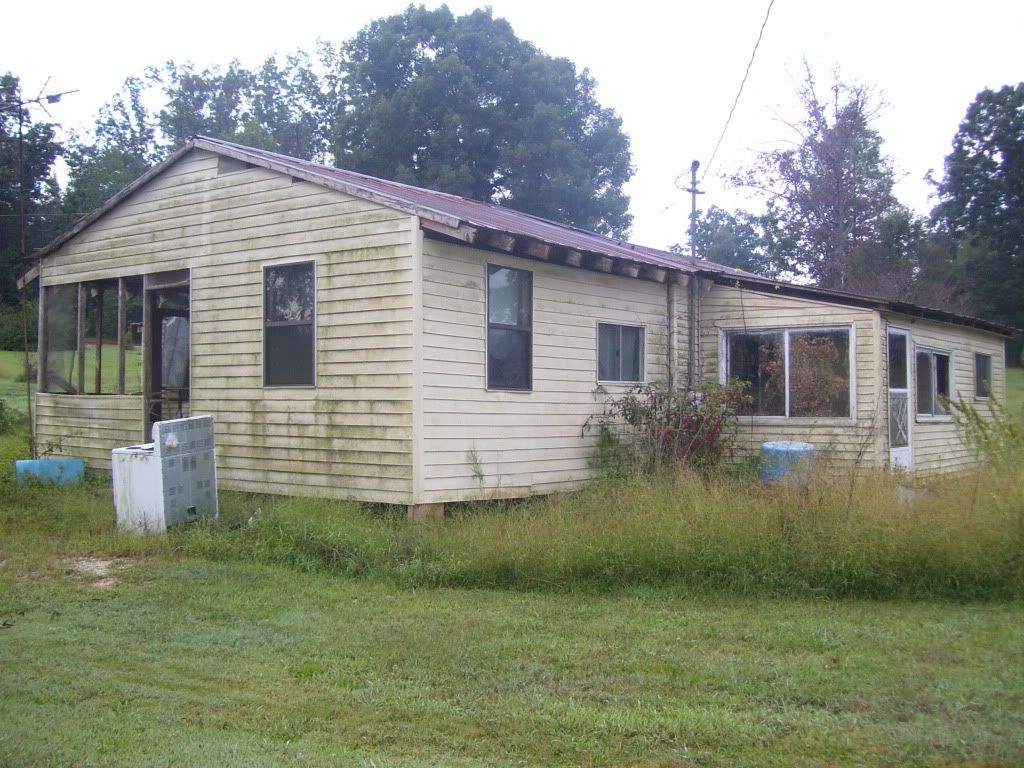 The floor was absolutely rotten. I fell all of the way through it, ad hit the ground. I'm just glad both of my feet were on the same side of the joist! The reason:
Nice joists though.
Moving on, this room I call the "Rotten room". You'll see why. A tree fell on the house some years ago. I remember the storm, and the tree hitting it, but I never knew the roof damage was that bad.