Moderators: oldhouse, TinaB, Don M, Schag
Posts: 1236
Joined: Tue Dec 09, 2008 12:04 am
Location: Texas
Contact:
Nice! Great post!
CUAgain,
Daniel Meyer
Author. Adventurer. Electrician. Cat God.
http://theoldvictorian.com
http://lifeisaroad.com

---
Another awful aluminum storm:
---
a quicky 1910 Casement.
---
Keep 'em coming, I'm enjoying your skills
Very awesome.
---
Posts: 5
Joined: Mon May 31, 2010 3:21 am
Location: Oostrum, Friesland
Hello,

It's clearly fine work Drew.

Greetings,

Don Wagstaff
---
Posts: 1986
Joined: Sun May 13, 2007 8:22 am
Location: hawley massachusetts
Contact:
darn, i have dial-up! it will take a good hour to be able to view all your photos...next time i'm out and about, i will take a look see via my lap top....
...jade
---
Beautiful work! Love your saves and the transitions from ugly aluminum to beautiful wood.
Whether you think you can, or you think you can't, you are right. - - - Henry Ford
---
Lovely work!

I'm especially intrigued by the curve topped double hung window, as that's what we have (although ours lack the pulley mechanism so are basically single hung).

Can you tell me more about the hinges you use for the storms? They look like some sort of specialty hinge?
The Carson Farmhouse, 1899
Minesing, Ontario, Canada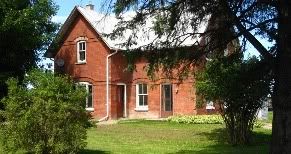 http://www.firsthomedreams.com
---
The storm hangers are just that. Storm hangers. I carry about 6 different types depending on the storm weight/architrave style and client budget. The stainless steel ones carry the most load with minimal deflection.
---
C.1975 Column plinth and base restoration
---