If you look closely, you can see a part of the old house in these two photos.
The house is to the left in this photo.
The house is in the background of this photo.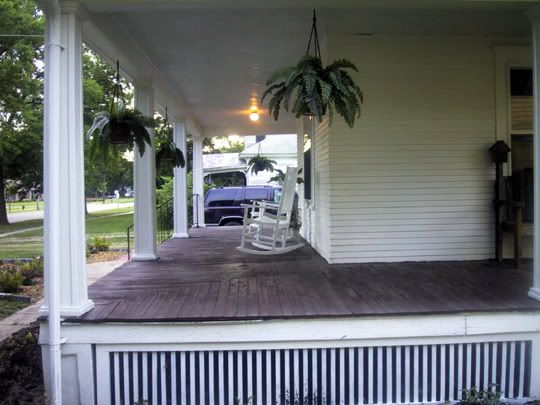 We bought the old, falling down house next door. Last week, it officially became ours as we got the deed in the mail.
What joy! We are now the proud owners of a huge pile of crap!
The lady, Henrietta, who used to live there moved out in 1991. She moved to another house in town, which was smaller.
In January of this year, she passed away. She had no children, so her 70+ year old niece & nephew were in charge of her estate.
The short story of it is: Henrietta died in January. Niece & Nephew must clean out house to hold Estate Sale. It took them a month to clean out the small house Henrietta was living in. It took them five months to clean out the house next door. EVERYDAY they worked. They hired young people to help them sometimes. 49 grain truck loads of trash hauled away & $85,000 found all over the house, and they were done.
This was a woman who threw nothing away. NOTHING. She wasn't just eccentric. She was crazy as a dang loon. She had to move out the house next door, because she physically couldn't walk from room to room anymore. Junk was piled from floor to ceiling. She had to dig pathways throughout the house.
When she moved into her new home, she did the same damn thing.
Now the house next door is ours and we must tear it down. There are three sheds to be torn down too. All plum-full of junk. In a 30 second run-through, I found a pair of very old little girl boots. Probably from the early 20th century. I found a very old camera. I'm curious to see if there are photos to be developed in it.
Anyway, my father-in-law and husband are in charge of this project. Father-in-law has a huge loader, a huge graintruck, and they plan on having a week of destruction sometime in October.
They're going to tear down the house, tear down the sheds, make a big pile, and then start loading it up and hauling it away.
Point of the story being?
I just want to know if any of you had to tear down an old house? If so, can you describe your experience? Let us know what we're getting ourselves into?
By the way, it used to be a gorgeous home. It was built in 1907. It's such a pity & a shame.