Thu Oct 16, 2008 2:18 am
Before:
Today (11/5/08):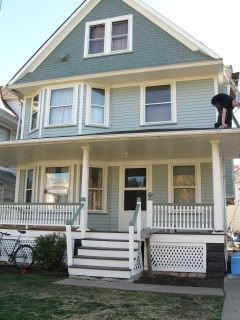 My house was attacked with aluminum siding in 1960. I HATE this aluminum siding. They covered ALL the trim...all of it except the exterior sills and even those were originally covered with aluminum. I was going to post about fabricating aluminum trim to retrofit this house, but a guy emailed me his quote.
Removal, scraping, caulking, priming /painting (with sherwinn williams duration) of my home plus the repair of a column base and small back porch floor and fascia board. Cost will not cover any repairs needed on wood siding. I am worried about the condition of the gable shingle siding. My granddad had the siding put on in 1960 when he felt some of those shingles need to be replaced...that and he didn't want to paint it again!
We took our porch to wood and repainted this summer, so that's not needed. They get to scrap the siding. Called this guy on recommendations of more than one person.
I am really tired of these before pics. I will post some before and after porch pics as soon as I get some more batteries.
Last edited by
notpetergriffin
on Wed Nov 05, 2008 1:21 pm, edited 3 times in total.
Thu Oct 16, 2008 7:02 am
That is an amazingly good price. I couldn't even get the aluminum covered eaves of my brick home done for that price. Not even close. Frequently, siding is put up to cover rotted wood, especially around gutters and flashing. Perhaps there isn't much to rebuild after siding removal. (?)
Thu Oct 16, 2008 8:49 am
Sounds like a great price to me too! Luckily you have aluminum which has some value as scrap. Perhaps that is helping to offset the cost in that bid.
I took off two layers: vinyl siding from 1982, and beneath that asphalt shingles made to resemble brick dating from the late1930's or early 1940's (as best anyone can remember). Beneath that was the original cedar siding. There was lots of nail holes to fill, a couple of places that had to be replaced due to rot (especially above the porch roof), and most of the window sills' "ears" had been lopped off and needed to be replaced. It sounds like a lot, but really, it wasn't too bad. We also used this as an opportunity to blow in cellulose insulation into the walls. I think you should go for it.
Chris
http://www.saracenihouse.com
Thu Oct 16, 2008 10:40 am
That's a GREAT price, in my opinion!

I took steel siding off the bottom of my house this past spring... it was actually pretty easy, as it sort of "snaps" together. Just a few nails to remove on every one.
Thu Oct 16, 2008 11:34 am
We stripped the aluminum off our house two yrs ago - amazingly the siding wasn't in too bad of condition. We would've restored the siding, but there were 7 doors taken out of the exterior of the house so would've been lots of repair work, and the siding had lots of holes in it from 2 layers of overlayment on it - so went with hardiboard. But - as for rot - none found - was really surprised.

You won't know what you're getting into until you rip it off - but at best this guy (great price it seems) can make the repairs agreed to - and if more are needed - and you have to budget for it - then most likely it can wait until you have the bucks to hit it again. In the end - the details and character of your house will look great.
Thu Oct 16, 2008 1:23 pm
I would be extremely weary of an estimate this low. I have stripped the aluminum and insulbrick siding off of my home and restored the original this summer. I too thought that I could do a heavy scraping and repaint after patching nail holes-this is not the case. A couple of things- if the house was covered in the 60's- its going to have too many coats of paint on it to simply scrape and paint. The siding was probably nailed on with non-galvanized nails- it will require you to set them (if not already set) and seal them in with epoxy (or a rust inhibiting primer at least) before painting. If you don't use an epoxy to fill the holes left tfrom the siding- it will crack. I've heard of people using min-wax's two part wood filler- but haven't heard how long it will last. Ordinary patching compunds like M+H ready patch or exterior vinyl spackling compound crack (ask me how I know...). Aluminum siding installers hack the ends of the window sills and any other hard to cover trim off before they install the siding- they all have to be remade. If you do have to actually replace any damaged siding- you are looking at approx. $1 a linear foot for 3" exposure clear cedar. Gable shingles are incredibly labor intensive to strip. I have way less than half the shingles you have- it took what seemed like forever to properly prepare them. You will find that many of them have chipped paint and grey wood- paint won't stick to it. You are going to have to replace all of your drip edge on the roof- Its near impossible to get the aluminum facia trim off without damaging it. I used to dismiss anyone who suggested that I was going to have to strip the house to bare wood before I could repaint. My house was covered in the late 30's with Asphalt brick- the paint didn't look too bad on initial inspection (only 4 layers). When I started to scrape the house with a carbide scraper- it became apparent fast that stripping would be the only option. The only intact paint was under the covered porch. Just to give you an idea- I have more than $3500 in materials invested in restoring my house. I had an estimate from 1 company for over 25K -and it would depend on the amount of work found after the siding was removed. I'm sure we are in 2 different labor markets- but not 22K different. Hate to sound so discouraging- have you considered pulling off the siding yourself- assesing the damage- try to fix what is in your skill set and then getting an estimate?
Thu Oct 16, 2008 1:39 pm
what's the price on aluminum right now? I can't imagine it's high. maybe that can be a factor in the low cost. 25K for a job like yours, though? That's a wowza kind of price. I'm sure you got more than one quote, but for the life of me I don't understand. perhaps it has something to do with the size of the house.....
Thu Oct 16, 2008 3:35 pm
hmmmm ... glad you asked.

We are in the process of removing the aluminum siding, replacing most of the clapboards, repairing trim, and will be getting the house painted with Sherwin Williams Duration. We got a TON of bids prior to starting work, which is why the project didn't get started until the end of September, when we HAD planned on starting in May-June.

$3500??? I'd be sure to get it in writing, and then read ALL the fine print. Check and see if this guy has done this type of work before. Chances are, I would venture that you got an estimate for painting the exposed trim, or the contractor has never taken on a project like this before. Oh, and if you go with this contractor, don't pay him until the work is done!

How big is your house? A majority of painting cost is for labor, but Sherwin Williams Duration is an expensive product. You can expect the Contractor to pay about 28-30 a gallon for this stuff. It's not cheap. Our house will require AT LEAST 100 gallons, and that's not including the primer. That's for the two topcoats. Total material costs for paint will be in the neighborhood of 3500 to 4200. Our home is 3550 sf, and has LOTS of BIG windows.

Total material cost for the wood repair / siding replacement will likely exceed $10K. We're using cypress for the bulk of the exterior wood, and I'm saving money by fabricating some of the design elements myself.

Personally, I think that someone is dreaming if they think you can accomplish a siding removal, wood repair, and proper paint job with Duration for 3500, unless you're looking at a single story 1 bedroom cottage.

If your curious about any of the details, my blog has more info and pretty much daily updates.
Thu Oct 16, 2008 3:45 pm
Check out this article for some costs on stripping and painting a house with no siding removal or trim replacement-
http://www.thisoldhouse.com/toh/article ... 36,00.html
Here's an excerpt:
"On D'Amato's 3,000-square-foot, two-story house, all of this preparation takes the four-man crew two weeks."
"In all, D'Amato and his team will spread and spray 53 gallons of paint and finishes on this house: 8 gallons of sealer, 15 gallons of primer, 15 gallons of the burnt-orange body paint, 12 gallons of trim paint and 3 gallons of deep green on the shutters. Total paint cost: $1,530.
If he were charging a client, D'Amato estimates the total for materials and labor would come in at about $20,000.
"The scraping to bare wood is what really elevates that price," he says. A less vigorous scrape could drop the cost by half, to as little as $10,000. "
Fri Oct 17, 2008 1:46 am
Scotty My home is no where near 3000 square feet, it will not be scraped to bare wood, it's a one man crew and a 7 day time line. He also gets to scrap the aluminum, at almost $1/lb (
http://www.metalprices.com/
). Cost of living is MUCH less in Ohio than it is in Boston, much less. Had I not seen his previous work, I would be much more skeptical.
Last edited by
notpetergriffin
on Tue Oct 21, 2008 5:51 pm, edited 1 time in total.