Ok, I posted a while ago about me peeking behind my vinyl siding and finding wood shingle siding was originally on my house, naturally, one day I had planned to expose it all since I am the only house on this side of the street that has it and its covered up. Well, in the mean time, we have been planning on opening the enclosed side porch and demo the back addittion that some one put up and did not anchor to the ground, or put any pitch in the roof ( leaking now) and of course there is rot everywhere. I had thought the back part was a porch too, but guess not. Well, got my permit, and started taking the vinyl siding off ( we were going to reuse it to put on the newly exposed house until we could do the wood shingle thing) took it off, then the wearther retarder off and lord and behold there was wood shingles on there
. Ok, I started hollering for hubby to come here, and we start yanking all the vinyl off and got to the corner and it stopped, so got past the door and to the part where the side porch starts and the wood shingle starts again. and all around to the front, so, I guess they had encloed the porch originally? I kow its original, but not the back, why was it on there? Hubby thinks it was a garage at some point! I dont know, Im confused, but very happy, cause we are going to take it off and put it on the new exposed house instead, and rip off the rest of the vinyl!!!!! YAY!!! 99 percent is in excellent condition, of course there are a few missing and a few need replaced, but wow, i am so excited. My question is.....how easy is it to install, looks pretty easy, just overlap it? And dont they sell it at Lowes? I am going to look today and see. Also, Is that black tar paper all you put behind it, casue looking in our bathroom, looks like its just that and then the wood siding? Nothing else huh?
here are some pictures I took to help show what I am talking about
Side Porch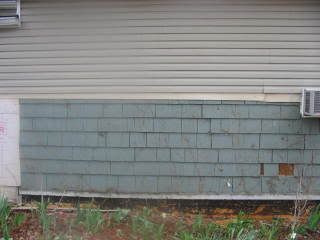 Back addition and corner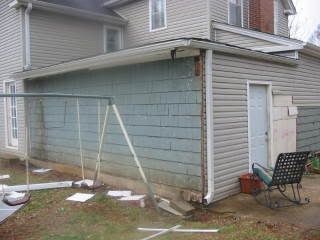 All it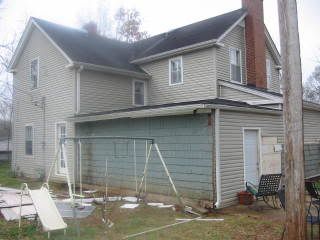 I one time thought my house was sideways, it did not have a front door originally, the porch and main entrance was on the side, there are a few houses like this around here, one is accross the street. I dont know I do have a foyer and staircase in the "Front" who knows!