Moderators: oldhouse, TinaB, Don M, Schag
Good question but seeing that the utility fixed the problem I imagine Schag didn't argue the point!
1840 Limestone Farmhouse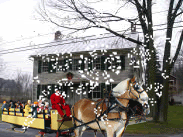 ---
Posts: 2355
Joined: Mon Feb 09, 2004 6:42 am
Location: Vienna, Austria, Europe
Contact:
Schag wrote:

If the leak was on the utility side of the meter, how could the meter have registered the extra flow?!?

It was on the pigtail pipe just past the meter that connects to my line.
Ah, that makes a lot of sense!
---