Moderators: oldhouse, TinaB, Don M, Schag
I post photos of all my projects (on my blog), but I only post the nice "impressive" or finished stuff here.
JC
1923 Foursquare
Clockmaker, & Old House Enthusiast
http://my1923foursquare.blogspot.com/
---
Posts: 833
Joined: Tue Jul 08, 2008 3:35 am
Location: Lyons, NY
sooth...i do enjoy looking at your photographs and the transformation you have made on your house...
Theo. & Alice Fries House
Lyons, New York - 1880
---
Posts: 2189
Joined: Sat Sep 30, 2006 10:12 am
Location: WV
1880 Stick Victorian wrote:reading what everyone has done... i wished people had posted more pictures of their projects both big and small...
Hi,
I posted my dining room work in the photos section under "dining rooms".
Casey
---
Posts: 399
Joined: Sat Feb 18, 2012 7:24 pm
Contact:
Mine are all on my blog, I didn't want to take up a whole page. I also posted pics in the pics forum on a few threads.
The Cottage Blog:
http://eclecticcottage.blogspot.com/
Current home: 1950's Summer Cottage turned year round home (the Cottage)
-@ 700 sq ft, heated with a wood stove, on the shore of Lake Ontario
Previous home: 1920's Vernacular (the Old House)
---
Posts: 848
Joined: Sun Mar 22, 2009 4:56 pm
Location: Junction City
We are rounding the final bend.
--We sodded the back yard.
--The last (6th) color went up, porch floor grey.
--We made it on the National Register, bought the plaque, and hung it.
American Foursquare with Prairie and Colonial Revival influences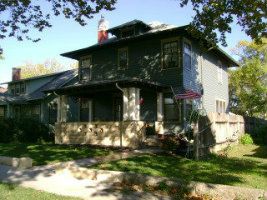 ---
Finally got my wooden self storing wood storms built and installed. At least on the double hung windows. Lots of paint removal and repair plus sill extensions. Have a few wood casements I'm planning on doing as well but that will wait for spring.
In the midst of paint removal around the windows. Many coats built up especially in the corners. Heat gun worked well but took some patience
All paint removed to bare wood. Colored areas are bondo. Although this window uses hangers, I've opted not to use them on the final solution as the stroms will be permanently attached from the inside. Since they are self storing, the bottom glass can be lifted to provide a screen exposure if desired, similiar to an aluminum triple track storm.
---