Moderators: oldhouse, TinaB, Don M, Schag
Hello, I recently had my old basement wooden support columns replaced with steel columns. I contracted with an approved foundation company and the columns were fabricated by a company, not purchased at a hardware store. About a week after the new columns were installed I began to have squeaks and creaks in my hardwood floors. The company feels it has nothing to do with the new columns but I have been in my home 20 years and never had these squeaks. Any suggestions on who specifically I can call to see how to fix this? If floor joists are loose, I am worried I will end up with more problems.
---
I wonder if the joists or beams the rest on the new columns are flexing enough to rub on the tops of the columns? Perhaps a shim of felt paper placed between the top of the column & the beam or joist might eliminate the squeeks. You might ask your installer. If you can replicate the squeeks & creaks by walking on the floor the installer might be able to pin point what's causing them. Good LUck.
1840 Limestone Farmhouse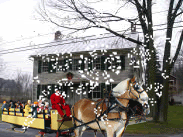 ---
Thank you for responding. The contractor did come back and said they measured very carefully and spoke to both the column fabricator and other contractors and there is no relation between the floors squeaking and the new support columns. The worse area is in the center of the house about 1-2 feet on either side of the main support beam (I have 4 support columns under this main beam). I'm not an engineer or foundation specialist but I definitely believe the new columns either raised the support beam a little or lowered it a little. I read about placing shims between floor board and joists but the article stated that that could make squeaks worse if problem was not caused by nails rubbing against the flooring. It's really upsetting to spend thousands of dollars to make improvements only to have additional problems.
---