Moderators: oldhouse, TinaB, Don M, Schag
Hi - i need help identifying these animal styles/motifs on these antique wrought iron strap hinges.
Attachments

photo 5.JPG (123.92 KiB) Viewed 4302 times

photo 3.JPG (76.26 KiB) Viewed 4302 times

photo 2.JPG (77.51 KiB) Viewed 4302 times
---
Unusual, never seen anything like that around here. My best guess would be Pennsylvania Dutch?
Locust Quarter, circa 1770 Georgian Gambrel roofed cottage.
---
Posts: 2189
Joined: Sat Sep 30, 2006 10:12 am
Location: WV
Hi,
Maybe PNW native American?
Casey
---
I'm wondering if it is a unique set, handmade by the craftsman, for this specific home?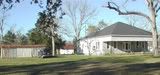 My great-grandparents' 1913 farmhouse
Too bad the spam got so bad. Some of us have been spending time at the new community for folks with a love of old houses at wavyglass.org
---
Posts: 4
Joined: Wed Feb 19, 2014 3:07 pm
They do look custom. They look like poorly depicted horses.
---
Posts: 4
Joined: Tue Feb 25, 2014 2:42 pm
Very cool!
They remind me of dragons. Actually my first thought was The Lochness Monster. Definitely a one-off.
W.
---