Moderators: oldhouse, TinaB, Don M, Schag
Does anyone know how to estimate the cost of a complete rewiring and plumbing on a 1902 foursquare farmhouse of approximately 1800 sq feet?
---
I don't know where you live, and costs will vary by location. I'm in Southeast Texas and my 2000 sq foot, single story 1913 vernacular farmhouse was totally rewired in 2006. It had all knob and tube wiring, 4 window air conditioners. It was brought up to code and totally rewired with 200 amp service, including leaving some 220 outlets if I wanted to keep the window units, wired for central air and heat, wired smoke alarms, cat5 wiring for phones, computer, cable, etc., underground wiring to one outbuilding, and wiring/brace for 8 ceiling fans (3 of them are on the porches), rooms without fans had ceiling fixtures wired and hung, multiple outside outlets on the porches. Cost was under $13,000. Other estimates were higher by $2000-3000.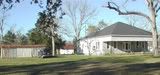 My great-grandparents' 1913 farmhouse
Too bad the spam got so bad. Some of us have been spending time at the new community for folks with a love of old houses at wavyglass.org
---