Well, never let it be said that when I take a pledge to not do something, that my word isn't good! Years ago I took the "pledge" to not move any more buildings - but here I go again - I promise - I will stop - this is the last one!!
this little house is a 2 up 2 down frontier house - or first generation house that dates to 1827 or so. For Michigan - that's early. Folks remember that Detroit was founded in 1701 - but it suffered several major fires over the years, and today the oldest house in Detroit is after 1850. I know of three of these little houses in Wayne county - and two of them are in Canton, one in Plymouth - town to the north of us.
We've hired a contractor who works with the Amish to take down this little post and beam house and move it across the street to the Bartlett-Travis house property where we have several farm out buildings, a big barn and a pole barn and the BT house. This is park land for the township. The developer that owns the property where the Hugh Clyde house resides will be developing the property in the "cherry hill fashion" - I'll include some shots as well of some of the area around the BT house and the new neo-traditional development of Cherry Hill. Hugh Clyde was the first settler here, and tho he took up about 260 acres of land in the area, he began subdividing it in a manner that appeared like he was planning a village at these cross roads. He arrived in Canton in 1827 with his wife, Eliza and 2 little ones. Hugh died in 1831 leaving Eliza with 3 little ones and all alone on the frontier. Eliza wrote to her parents (Hustons) in NY and urged them to come to Canton which they did - with their hefty posse of sons and settled here, cleared land and were big contributors to the community. I live in a Huston house - one of several that still exist in Canton. So - here's my slice of the world!
here's the house with the roof off:
More of the house being torn down by the Amish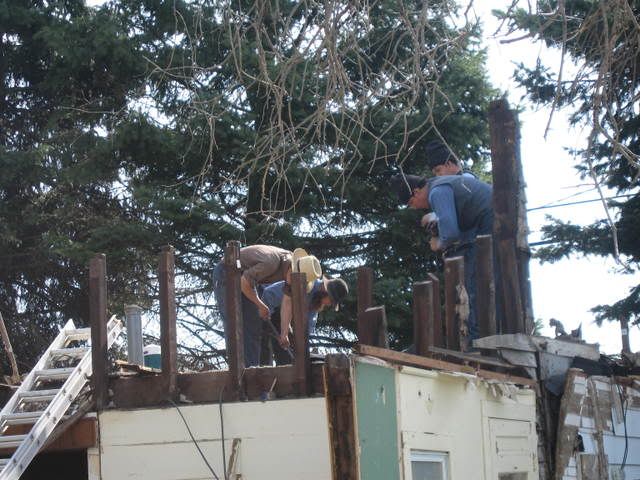 Here's a picture of one of Hugh Clyde's house's cousins in Canton: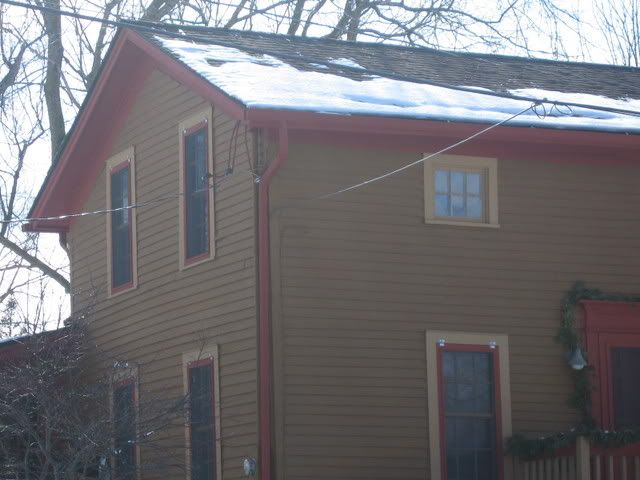 And the one in Plymouth