Fri Mar 18, 2011 10:53 am
emmy wrote:I have a simple, yet honest name for my humble abode: THE MONEY PIT
Fri Mar 18, 2011 12:43 pm
lisascenic wrote:What gear is needed for ghost detection?
Well that sort of depends on what is going on at the house. I have EMF detectors, Temperature change detctors, EVP recorders, Night view goggles, Ultraviolet flashlight, and a sonic ear. Plus regular cameras etc.
Fri Mar 18, 2011 12:45 pm
KathyJB wrote:I just call my house, "home".

I do call our crew cab dually "the tank".
Hey cool another Dually owner, we just got one a couple weeks ago, used. Just had it Rhino lined, ours is Black GMC Long bed, Extended, not crew, cab.
Fri Mar 18, 2011 1:49 pm
We have the Chevy 2500 HD Crew Cab long bed with Duramax diesel & Allison transmission---no dually! We use it to haul our 3 horse slant load.
Sat Mar 19, 2011 10:03 pm
I think it's entirely up to you if you want to name your house or not, and who really cares if it's pretentious or not. I had thought of naming my house, but only for fun. My family on my Mom's side originally owned this really gorgeous old house (one of the oldest in Ontario) which is in Maitland along the St-Lawrence river, and it is called Poplar Hall. I have no idea where the name came from, and I don't really know the history of the home. Some jerk in the family ended up selling the house many years ago, and a bunch of the family was pissed about it.
The house was up for sale about 5-6 years ago for 495,000$! It has something like 4 fireplaces and 2 bathrooms (IIRC). It has a very distinctive top trim with black diamonds along the top, and a beautiful fan window above the front door.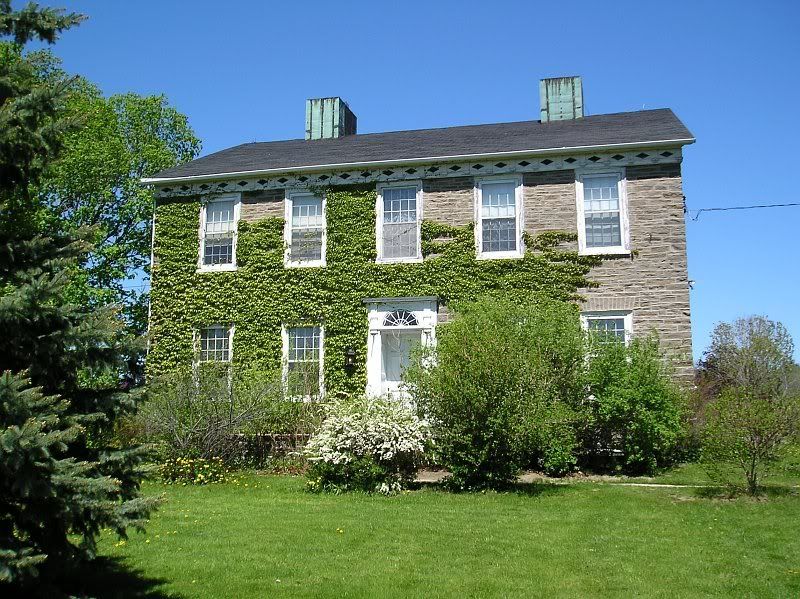 Mon Mar 28, 2011 5:52 pm
Old maps sometimes have names written in, especially for large rural properties. Some of these were not terribly creative, much to my amusement.

After asking around here, I dubbed mine "the Thaddeus W. Bayless House" because that's the original owner and it sounds cool. (The neighborhood is National Register, but not the house itself. I'm not sure what they would say about what name or designation your house is listed under.) Do you have an original PO with a suitable name?

MKD
Mon Mar 28, 2011 6:07 pm
This person is me.
Is me
. Or is sharing my brain.
I've always toyed with going down to the hospital maternity ward (or Family Birthing Center, speaking of pretentious names) and just seeing what I could get people to name their kids. But I don't even need to. Catatonia...Melancholia...Relying on the stupidity of other people just never, ever lets me down.
The Welsh baby name list didn't even include the very popular Kennedy, which means "ugly head."
MKD
Mon Mar 28, 2011 10:13 pm
Thomolli wrote:Has anyone here "named" their house? What did you name it and how did you come up with the name? ?
I named our house the Thomas Potts House after I did a deed history and found that Thomas Potts built it in 1863. It was an interesting process and took some time but worth it for the fact that I unearthed some old factual history and brought it to life. Had the historic house sign made after doing the deed history.
Tue Mar 29, 2011 12:30 pm
You know, this has been a great thread! I honestly thought that everyone here that had "named" houses bought them that way, and that all of those homes were on some historical register and HAD to be named that way. So I now plan to formally name my home "Hayden House" for the original owner/builder, and get a sign for the front of the house. Since he was responsible for building much of the original community, but only lived in MY house, I'm very proud of his skills as a ship's carpenter. Plus "Hayden House" is shorter and nicer than a sign saying "John Wilkes Booth rode right by this place"!
Tue Mar 29, 2011 1:00 pm
SignPainter, that's a nifty sign. Is that a historic lettering style or anything?

MKD