Moderators: oldhouse, TinaB, Don M, Schag
The Sherwin Williams example is really nice.
Little ranch house. With a leaky roof, dead fireplace, and rotting siding.
---
OK, I took my camera with me to the house today, but I didn't have much to photograph. Last week, I had the upstairs kitchen unit taken away. Here is the aftermath: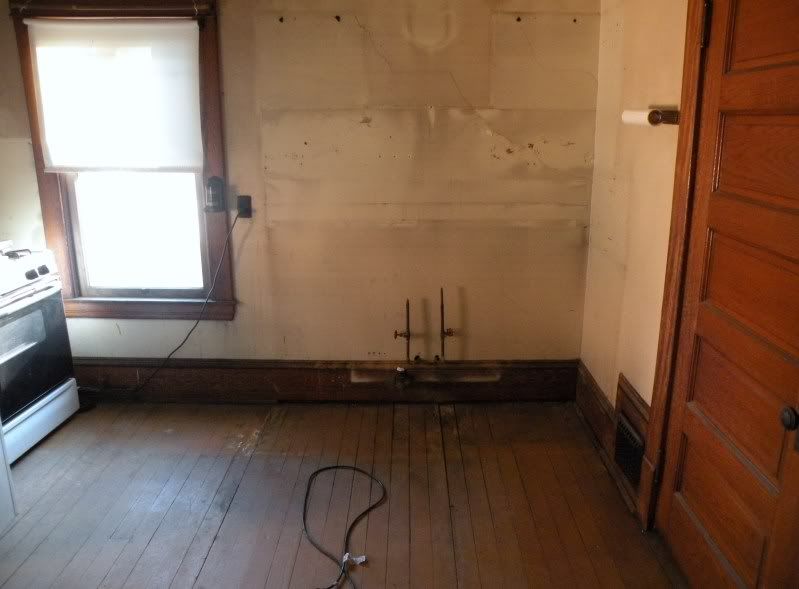 I'm surprised the floor isn't in worse shape, considering the floor of the metal cabinet was completely rusted through.
After that, I began work on the first window. That's what I worked on this week, also. (Until I went over the neighbor's project house to help her out.) So far, I've gotten the window completely dismantled. The upper sash is glued--this was the only window that was falling apart--and now primed. Next week, I'll reinstall the glass, and try my hand at glazing. (After some reading here, I realize I don't have the right stuff, but I will make do with what I've got, for now.) If the weather holds out, maybe I can get a couple windows done before the cold really sets in. But, that also means I will probably not have many new pictures for awhile.
---
Wow, yeah, not half bad. We'll allow you to dial down the picture posting since it's the off season.
(You post more than I do, that's for sure.)
MelissaKD
---
I didn't comment earlier, but I agree, the floor looks pretty darn good. No better nor worst than mine, at the very least. I can't wait to see more.

Also, if you remember or have time, I wouldn't mind seeing another shot of the dining room built-in with the really nice leaded glass doors.
JC
1923 Foursquare
Clockmaker, & Old House Enthusiast
http://my1923foursquare.blogspot.com/
---
First new post in awhile. I've actually been making some progress on the house, though.
- I managed to rehang the swinging door between the DR and Kitchen. (and you can see that I stripped the wallpaper in the DR, too.)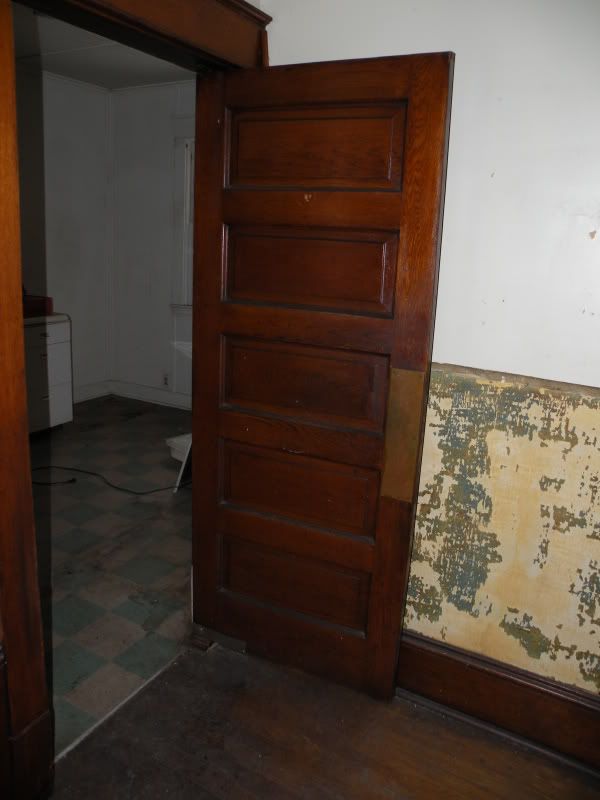 - I had the big front window glass replaced. (no picture)
- Some of the plumbing had been stolen, so I cut the ends off of the existing lines so they are ready to receive the new. And the first floor bathroom is ready to get new plumbing. (not sure if I just want to put it back together and get it working, or redo it they way I want it now)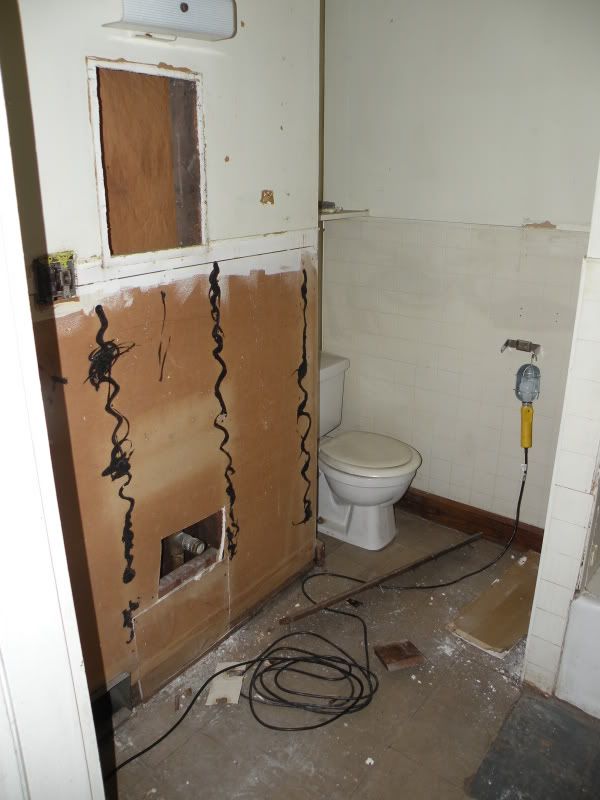 - I was able to fix up 2 windows before the weather really got cold. The pros on this site would probably laugh at them, but they do work, now.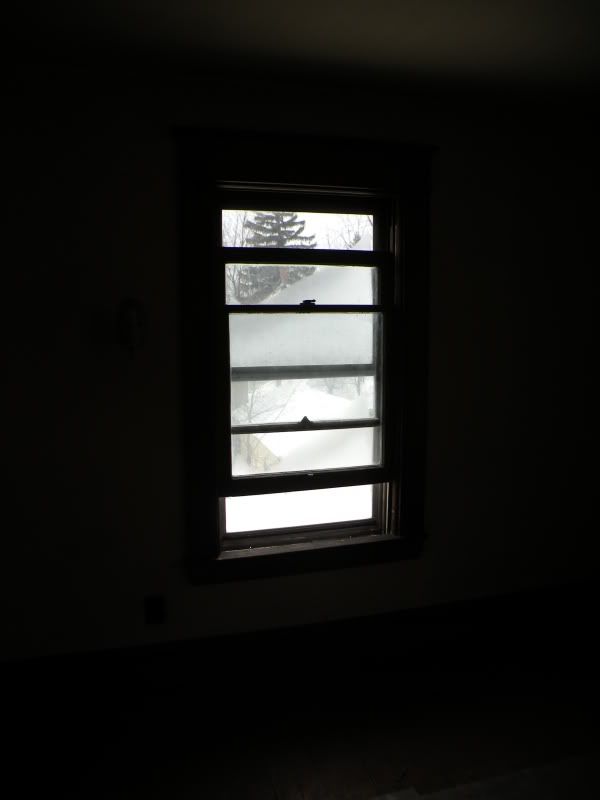 - For now, I'm focusing my attention on the second floor bathroom. I removed all of the plastic tiles, and kept all of the good ones. (if you know anyone looking for green, or black accents, let me know)
I neglected to get a picture of it, but the toilet (from 1950, according to the date under the tank lid, BTW) was broken where the tank met the bowl.
I don't know if it was overtightened, something fell on the tank, or what.
I don't think I've shared pictures of the linen closet in the bathroom, yet.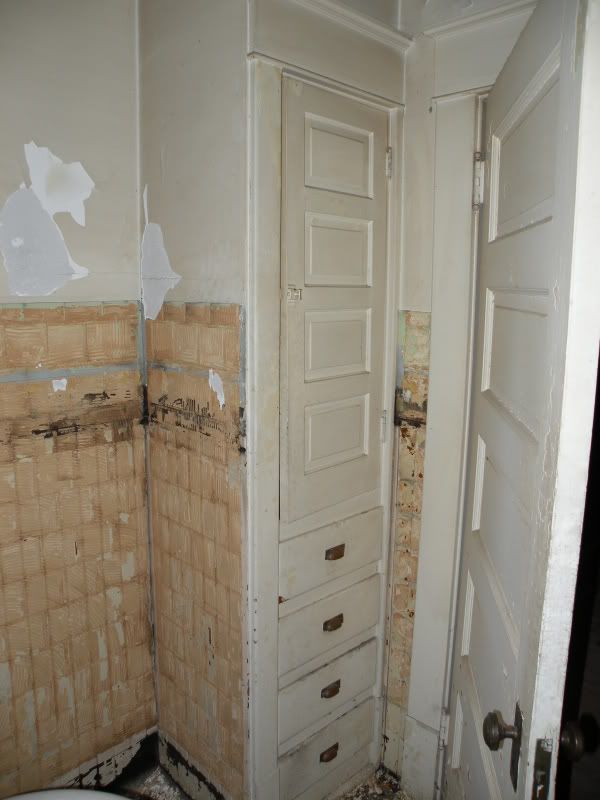 Today was my first day using a heat gun to strip the glue and paint from the wood wainscot. This is what I got done: (I'm trying to be careful, but I'm very nervous about burning the house down. But, I'm not sure of any other options that would work on the glue and paint so quickly)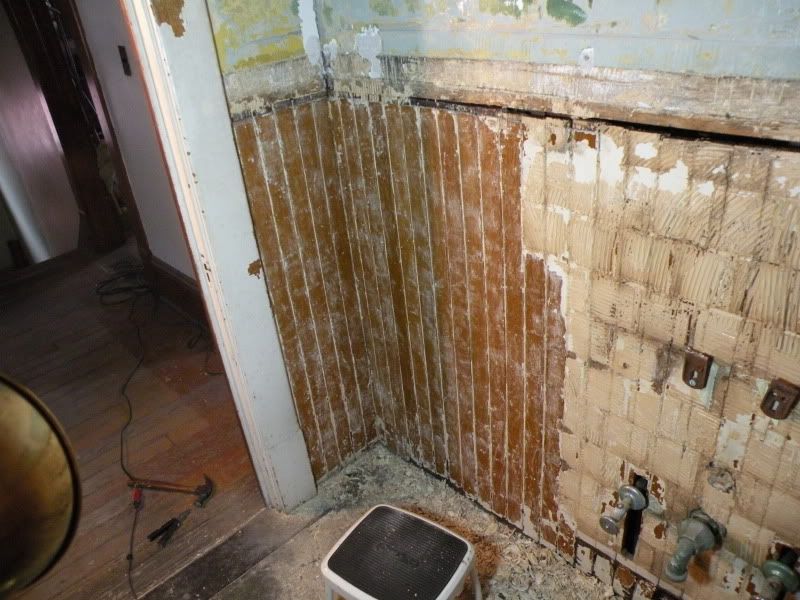 I also started tearing out some of the 1950 linoleum. It seems to be on paper. But unlike elsewhere, the paper seems to be stuck to the floor. I did find an interesting label on this paper,
and a little metal plate/label nailed to the floor for some reason.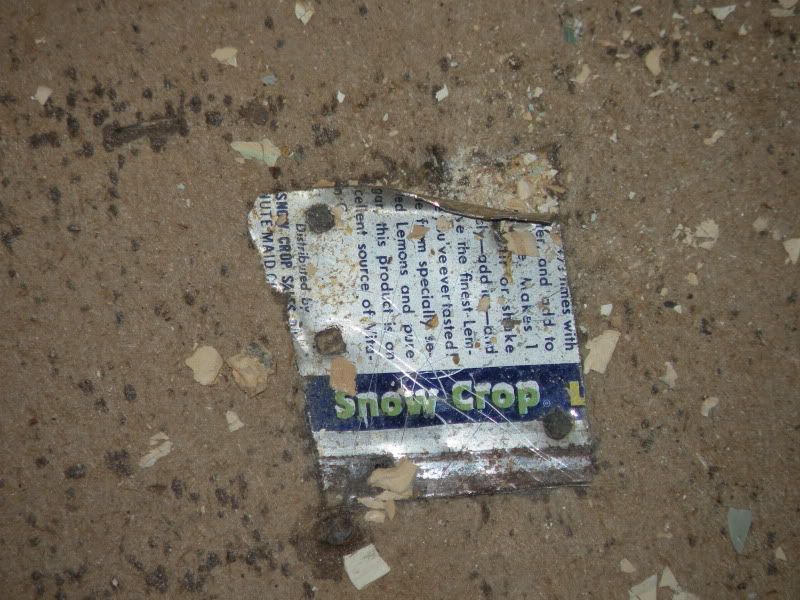 And finally, at sooth's request, here are a couple shots of the dining room built-in.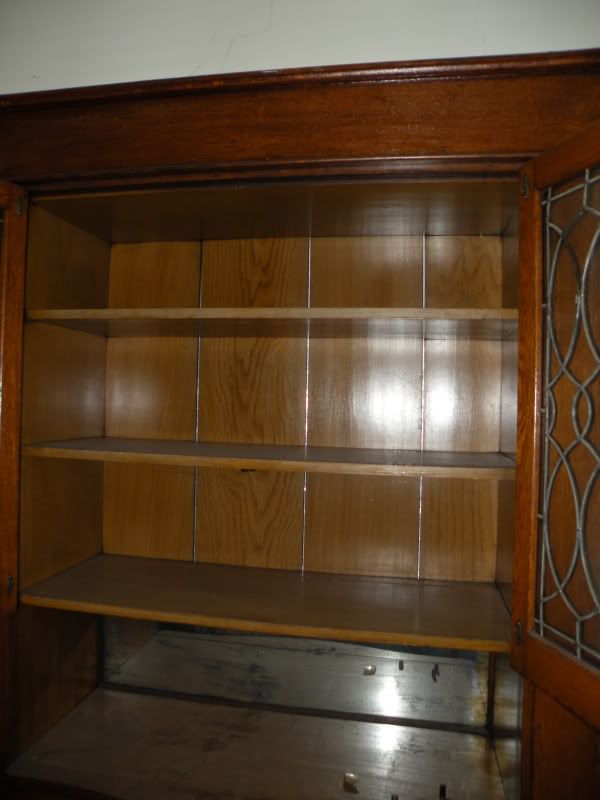 Based on the gaps in the boards, the different coloration, and what appears to be foil behind the boards, I think the inside of this cabinet was modified when they added the bathroom, though I don't know why.
---
Lots of great work - glad to see you're making progress. I don't remember if I ever posted here but I subscribed to this thread when you first created it.

I love that linen closet in the bathroom - that just gave me something to add to my "idea bank" for when I renovate my 1993 upstairs bathroom.

Also, that "foil" behind the cabinet might be foil-backed fibreglass insulation panels. The house I grew up in had it behind the 1970's paneling, and my current house has it behind the paneling in our 1958 downstairs bathroom.

Another feature I really like about your house - the forced air heat registers are in the wall. I find the in-floor ones like I have somewhat annoying.

I also have those metal plates nailed to the wood flooring. They patched holes from old electrical work or knot holes with little scraps of tin - though mine are "face down" and painted over.
---
That built-in is just gorgeous (as is all the woodwork in your house). I especially like the leaded glass doors.
I also love that built-in in the bathroom. It's actually very similar to the one I built into my hallway to store linens (since there's next to no storage space in the 6x8 bathroom.
It has no door yet, but it will have a 3 or 4 panel door with a turn latch (same as yours) and will also have 2 decent sized drawers at the bottom, likewise with cup handles.
I'm extremely happy to see that you found a way to remove the glue and tiling residue off the t-g in the bathroom. Will you also strip the casings and baseboards to match while you're at it? IIRC this is one of the only rooms with painted woodwork, so it might be worth the trouble to strip it all and redo it to match.
Also, don't be too worried with the heat gun. Unless you're very careless with it, it won't just start something on fire. It will start to turn brown, then black, before it would ignite. As long as you're keeping an eye on it, it's a pretty safe tool. (I use them at work all the time, and ours fo up to 1000F).
JC
1923 Foursquare
Clockmaker, & Old House Enthusiast
http://my1923foursquare.blogspot.com/
---
JRC wrote: Today was my first day using a heat gun to strip the glue and paint from the wood wainscot. This is what I got done: (I'm trying to be careful, but I'm very nervous about burning the house down. But, I'm not sure of any other options that would work on the glue and paint so quickly)
looking great!
I had to strip adhesive off my back stairs and used Citru-strip layed on thickly and covered with plastic wrap. mopped on thickly, covered and I would leave it for 24 hours. The adhesive would just slide right off and I would only have to reapply to some of the really thick areas. The plastic wrap and 24 hour wait was the key.
---
Thanks for the replies, everyone!
nezwick, I love my in-wall heat registers--especially these. The register in the rear parlor had come loose over the years, so I was taking it apart to see how to fix it. I was amazed at how heavy the grate, and the louver assembly behind it were! All of the old houses I've been in before just had stamped steel grates, maybe with a thin metal plate damper behind. But these are solid and heavy! As for the little bit of metal, it's certainly possible that they put that down to cover a hole in the original floor. I think the wood floor was exposed originally, but haven't been able to get enough of the later floor and backing off to know for sure, yet. We'll see.
sooth, I do want to strip the regular woodwork, too. As for the heat gun, I'm worried about heat blowing through any gaps/cracks and igniting anything that might be in the wall. (I even briefly thought about taking all of the wainscot off the walls to strip it, but I don't have enough faith in my abilities yet, to know I'd get everything back together and looking good again.)
I think you'll love your new linen closet. I have one in the hall of my current house, like yours, and couldn't imagine living without one, now. (though, in my new old house, it will be nice that--when I forget a towel, after a bath--I won't have to track water out into the cold hallway to get one.
)
shizzy, thanks for the tip about the Citru-strip! I'll check the directions, but I wonder if leaving it on for 48 hours would be a problem? (would it go too far and damage the wood, or would it start to dry out and re-adhere...) Due to strange circumstances, I can only work on the house on Saturdays and Mondays.
---
I've been thinking about a design for a linen cabinet for our bathroom Reno and this is GREAT inspiration! I didn't even think of including drawers at the bottom.

When I saw that you were removing tes and gunk from wainscot I literally said oh. My. God. How fantastic for ghT to be hiding there, but what a pain to clean it up!
The Carson Farmhouse, 1899
Minesing, Ontario, Canada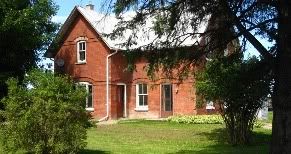 http://www.firsthomedreams.com
---