I've been meaning to do a thread on here to catch people up with what we've been doing but this is the first room decorating change so far. We have guests coming this weekend and I decided I needed to do SOMETHING to the guest room.
Picking out the wall color was a pain in the patoot as the shading from the surrounding trees outside make the prettiest colors look really bad in there. Everything seemed quite dead. So...I went brighter. But after seeing 12' of red walls, I knew I needed to break it up. The furniture that goes in here is yellow French Provencial.
Since the story on this room is 4 different threads on the HGTV site, I thought I give you the very shortest version - the before and the after.
Here's another one - unfortunately the pics always come out dark due to the windows. Hopefully you can see them okay.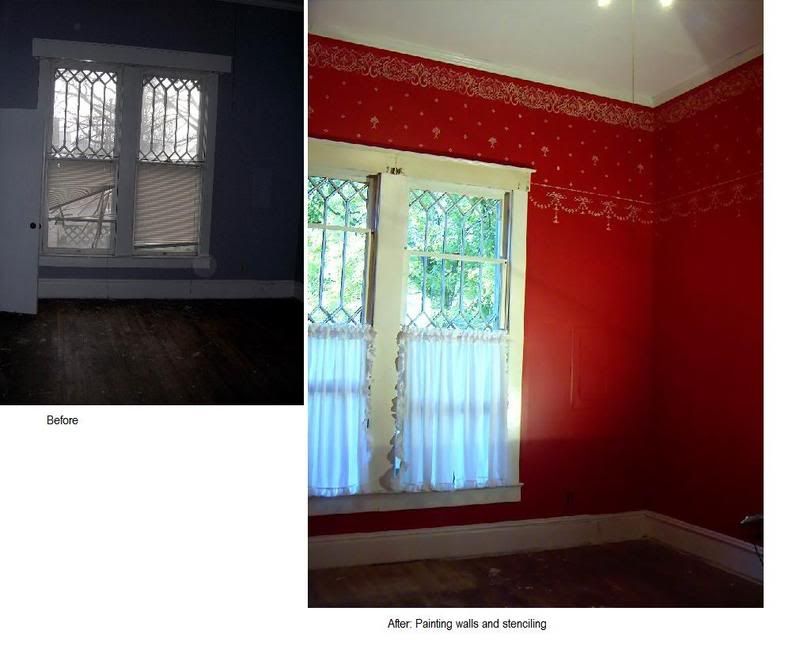 I still have a lot to do. Originally, I was going to strip the woodwork but one wall has pine boards and so...I'll repaint them white. Still have the floor to refinish as well.
The stencils I used are from Stencil Decor and I think I got them at either Walmart, AC Moore or Michael's. I've had them for years.