Hey everyone,
I haven't posted here in a good while, but I lurk now and then...whenever I have a chance and am not being consumed by all things architecture!.. (I'm a 4th year architecture/preservation student at UMD).
I'm going to be graduating in May, and am really excited because I've just finalized my first house after college! So of course I had to share my pics and excitement!
I'm actually going to be renting a house (rent-to-own) from a best-friend of mine in central Upstate NY. (in a small village called Starkville). She's an artist who recently bought an abandoned church to fix up into her home and studio. Being in the middle of Upstate NY, she got the property for $17,000 !!!
Not only is the church incredible (and not in too bad of condition) but it came with an "extra"- the original parsonage! Can you imagine getting an extra house with your house? Since she doesn't need an extra house, we've worked out a deal where I'm gonna rent-to-own the parsonage, likely in exchange for repairs or work done (any work I do will count towards rent). I'm actually already very involved in the local community as I go up there constantly throughout the year, and love it! Very slow pace of life (which I love), yes very economically depressed, but it feels right.. Lots of country, little towns, and old buildings.. There's a local cafe we go to on the weekends and know everyone by name, people wave as you drive by, neighbors help out....its so not like that where I grew up in modern suburban maryland! A great nearby little town is Sharon Springs, NY. If you haven't heard of it, check it out! Its a really great kind-of abandoned former Spa town with all these old hotels and original bathhouses (all of which are endangered, but thats another story). Its a 15 min ride down small country roads- thats where our local cafe is
.
So anyways, first here's my friend Wendy's church with the parsonage next door! The original (back) section of the church was built in 1830, and then it recieved a huge facelift (and front with the towers and all) around 1870. Steeple was taken down years ago, but still has the original bell! They've been working on and living in for about a year or so now.
And here's my first old house project!
Love the subtle asymmetry of the facade... As you look closer, you can see she has her fair share of issues...but I'm excited! You can kinda see here that there's big time rot all around the roof line where it meets the cornice... A lot of the woodwork in the cornice will have to be replaced. I'll save what I can, but some of it has literally just rotted off! I'm also thinking that an original hidden gutter was roofed over in the last roofing job. Speaking of which, no gutters and land that needs to get re-graded away from the already failing foundation! Plus the roof needs to be patched.. There's one section where some shingles got blown up by the wind, and water is leaking down a bedroom wall. That needs to be fixed ASAP.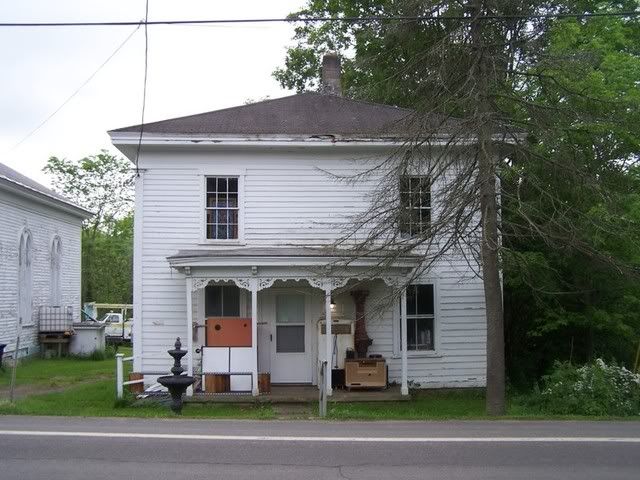 This victorian detailing on this porch isn't original to the more reserved Greek Revival main house, but I love it! Its so happy... Certain elements seem to have been replaced over the years, so it'll be interesting to figure out what's original. The columns are old-ish, but newer (and bowing!) along with the board you can see in the middle there that was cut by a newer circular saw. There's also a lot of rot to deal with in the porch... Water has not been this home's friend!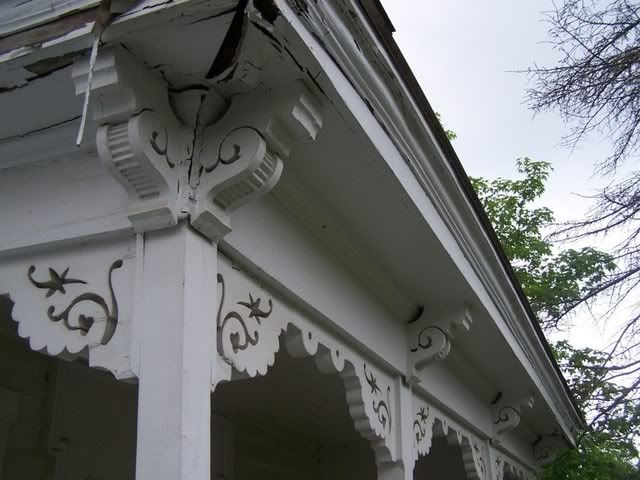 I cannot WAIT to get rid of that screen door!!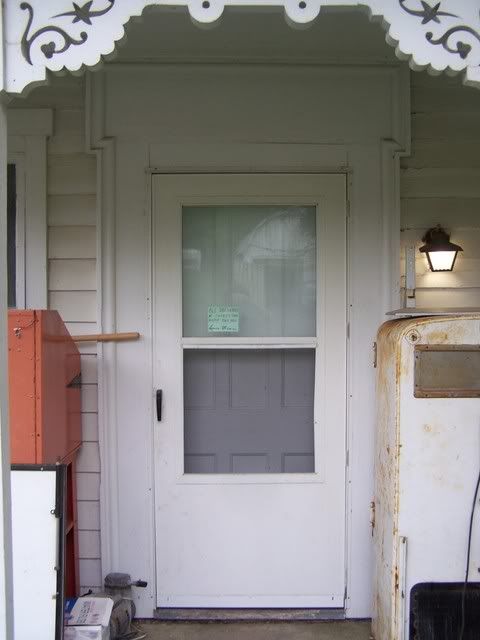 Here's the back- love the little area created by the addition! For some strange reason the original siding was replaced with plywood?!? How high does that score on the list of strange modern wall surfaces?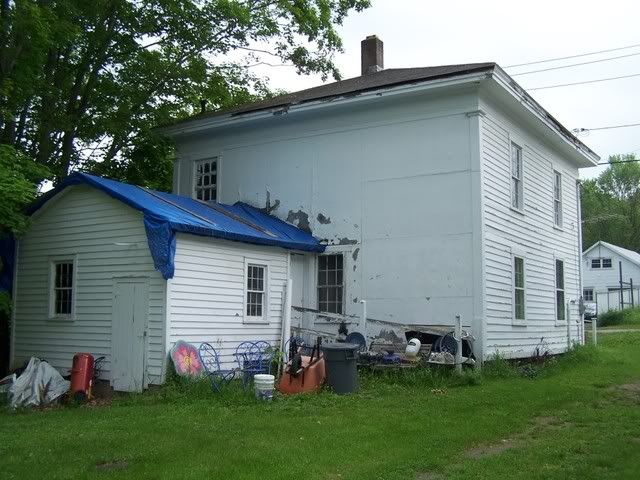 Love this back room...It's basically a shed right now but I want to turn it into finished space inside...the roof is no good though...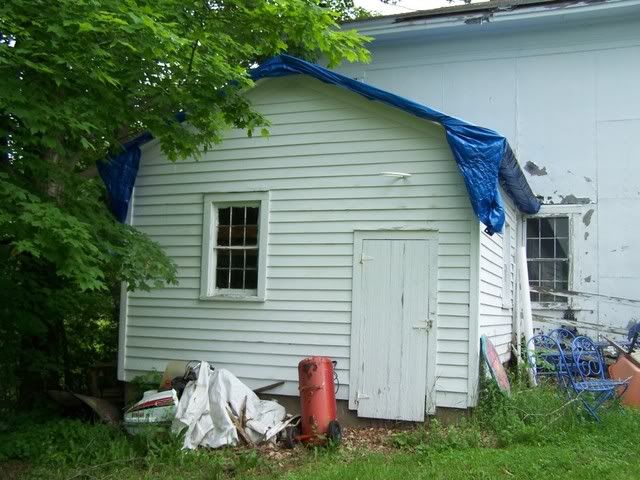 Oh, the foundation.... After talking with an expert, I'm going to temporarily stabilize this foundation wall thats bowing in with some cribbing, which will support the house and brace the wall. That should do for a few years.... At this point I hate to say its a lot about band-aid solutions while I make it livable!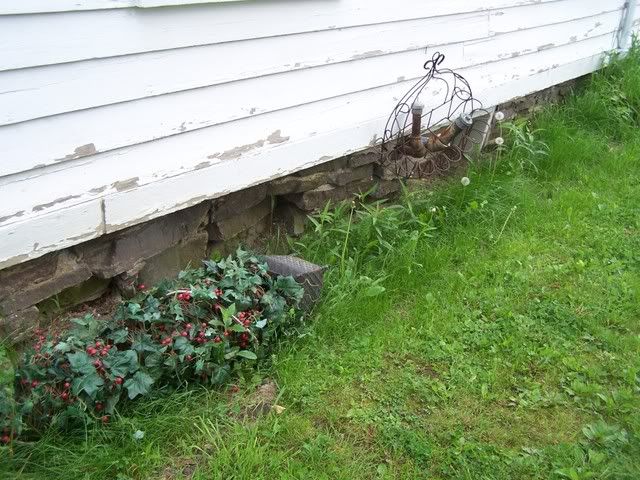 And the backyard...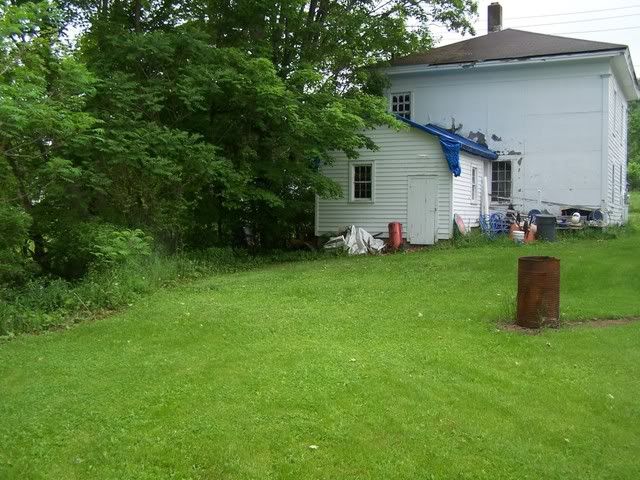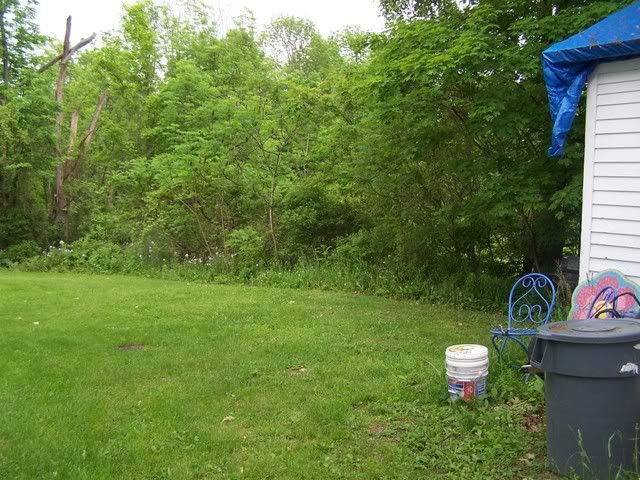 As it sits, it's filled with a lot of my friend's things from their move. That'll come out this winter, which is also when I'll begin work (I have over a month of winter break). I won't be able to do much outside, but I can at least get started on things....
The inside's pretty basic and muddled right now. I'll try to get pics after we empty it, but besides original doors and windows, everything's been covered up or muddled...(there'll be lots of uncovering and unmuddling!) A plus is the 1920's metal toggle switch light switches! And updated electric... Plumbing is....ok...ish... Heat is nonexistant as it needs a furnace... The original chimney was taken down 50 or 60 years ago, and it'll be interesting to figure out where it was...
So....wish me luck! Besides emptying it out, I gotta figure out where I'm gonna start this winter... I know I gotta do the cribbing in the basement for the foundation support. I'm gonna save some of the livability stuff (like plumbing) till later in the year, since I'll be living in the church for the mean time...
Oh, and construction started the day after President Lincoln was killed- we have documents from the church that talk about how they heard the terrible news by a guy on horse, and construction began the next day. So 1865.... It reflected the style of the original church in that it was done in a fairly simple Greek revival style. It may have had shutters... which we mayyy have. There's some under the church that belonged to the church, but also possibly some parsonage ones.. There was also apparently a fire right after it was built, but they put it out by running outside and shoveling snow on the flames.
So there she is! The next big updates won't be until late December or so when I get started! Until then just pray she holds herself together!