Today's guest post is from Rob Jones, chief blogger, social media practitioner, and online marketer for BuildDirect, an online building materials and flooring vendor. A part of BuildDirect's business is in providing building materials to homeowners who in turn buy them for contractor projects in order save money without sacrificing quality. A big part of the dialogue that the company has is on the subject of how to hire the right contractor.
Where BuildDirect leaves that business to others, Rob has a few ideas on where homeowners can start when interviewing contractors, and reviewing quotes.
***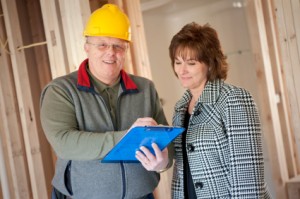 When you're hiring a contractor to do a job, what you're really doing is investing in the skills of another person to help you realize a transformation in your space, your exterior, or your property. But, it can be a risky business when you're hiring someone for the first time. After all, another reason you're hiring a contractor to do a job is ultimately to save money, time, and even physical discomfort.
A key advantage to a professional installer is that they help you to avoid costly mistakes on more complicated jobs, including damage to your property, unnecessary waste of materials, and even avoidance of injury. All of these important areas are good reasons to make sure that the installer you interview can meet and surpass these goals, and get you the results you're looking for within your budget as well.
But, what are some areas you should be focusing on when you interview prospective installers and reviewing quotes? Well here are 4 main areas to think about when you're looking to hire a contractor, in order to make sure that your investment in their skills is well-placed. Here they are:
1. What Are Their Credentials?
Credentials in the installation business is the prime area of concern when you're auditioning prospective installers. Ask the right questions, like
'How long have you been in business?',
'Do you have any complaints with the BBB?',
'Can I get a copy of your license?',
'Do you have proper proof of insurance?'
"Do you have letters of reference proving that your account is in good standing?"
All of these questions should be standard when dealing with a new prospective installer, even before a quote for a job is written up. The areas of licensing and insurance may be the most vital in terms of liability and injury on-site. Double check with local laws about this, to make sure you're protected.
2. What Is Their Experience With A Project Like Yours?
It may be that the would-be installer has the right credentials and the right track record as a respected business owner. But, does he/she have the amount of hours against your specific job that makes you confident that you're going to get the results you want? Ask them about specific instances of work done similar to the job you've got in mind. Ask them to provide references from clients to the last two or three jobs they've done related to yours. Contact those people and get their feedback.
3. How Will They Manage Employee Conduct?
Whether they will be managing a team of staff, or just managing their own conduct, you need to outline your expectations of this and make sure that it meets up with his/hers. A few questions to seek the answers to may include,
'What time does the workday begin, and on what date?'
'What is the end date'
'How do I contact you, and at what times?'
'Do you have a policies on how you/your team will conduct themselves while on my premises?'
'What is your policy on refuse and other sources of mess as a result of the work?'
'Will you come back if there are problems after the end date of the contract, and for what span of time?'
All of these are great questions to get into your agreement before work starts.
4. What Are The Terms of Payment?
Pointing this element out is pretty obvious. But, it's so vital that it has to be included. For instance,
"How is my quote calculated?"
"Do I have a say in materials vendors?"
"How much deposit is to be paid?"
Can you guarantee my project within my specified budget?"
Many of these questions will vary, depending on how big your project is, how big your budget is, and what local laws say about the nature of payment when it comes to hiring independent contractors. All of these should be taken into consideration. But, regardless of the details, it's important to get these terms understood, and expressed clearly in a contract signed by you, and by your chosen contractor.
Of course, another important and very often recommended avenue to consider is a network of contractors who are vetted by third parties. Companies like this can help to do a lot of the background checking on your behalf. When you work these types of services into your budget, it often saves time and sometimes misery later on.
Whatever your project entails, I hope this has been helpful, and good luck!
***
Rob authors the BuildDirect blog, and the BuildDirect green blog. He also manages BuildDirect on Twitter as well as the BuildDirect Facebook page.