Moderators: oldhouse, TinaB, Don M, Schag
There are a handful of before pictures here:
http://fixfarrington.blogspot.com/2012/ ... -room.html
---
Posts: 2977
Joined: Sun Mar 05, 2006 10:52 pm
Location: Boothwyn, PA
Contact:
---
Posts: 2189
Joined: Sat Sep 30, 2006 10:12 am
Location: WV
mjt, that is a wonderfully elegant room. As a woodworker I have created paneled rooms for others, but never for myself. Maybe yours will inspire me into action!
But I write this to log in and submit for everyone's delectation my summer's efforts in completing the final few details in my dining room.
I stripped and rebuilt the remaining two windows (in the house, except for two bathroom windows which may or may not stay in their current locations), and undertook to strip the remaining trim and baseboards as well as replace missing baseboard (since 1995!) taken out to create the large opening to the entry hall. And strip the false mantel (coal stoves in the rooms).
I'm a firm believer in taking things apart for stripping, so the base cap and shoe molding came out, leaving just the casings and 1x8 baseboard in place. The mantel came off and was taken to pieces to get all the darned white paint out of the crevices.
Everything was heat-gunned and cleaned with Kutzit brand stripper, then shellacked with Garnet shellac, which looks incredible on the 1906 yellow pine.
Last month I ordered new wood blinds and hung them. The only remaining yuks are the white rad. and the chintz-y window toppers. (edit: the wall color is less purpley than in the pics; closer to the last pic, w/tree)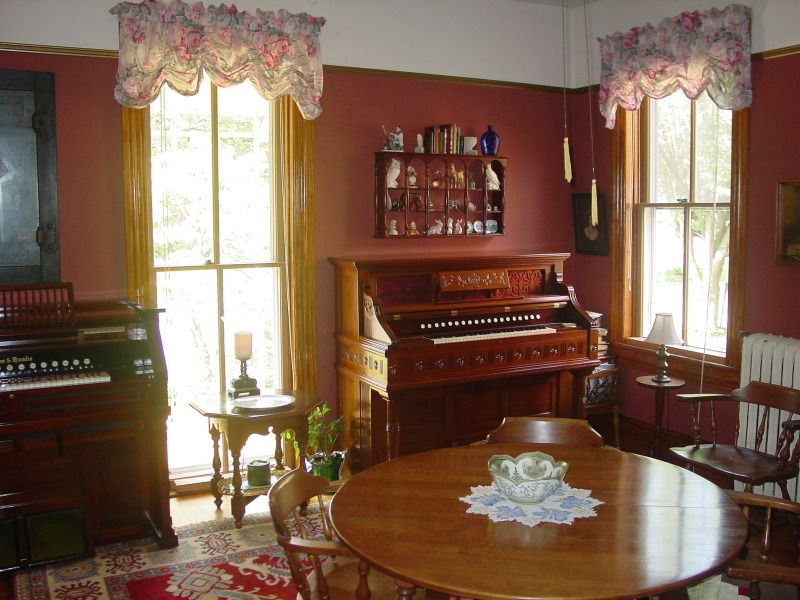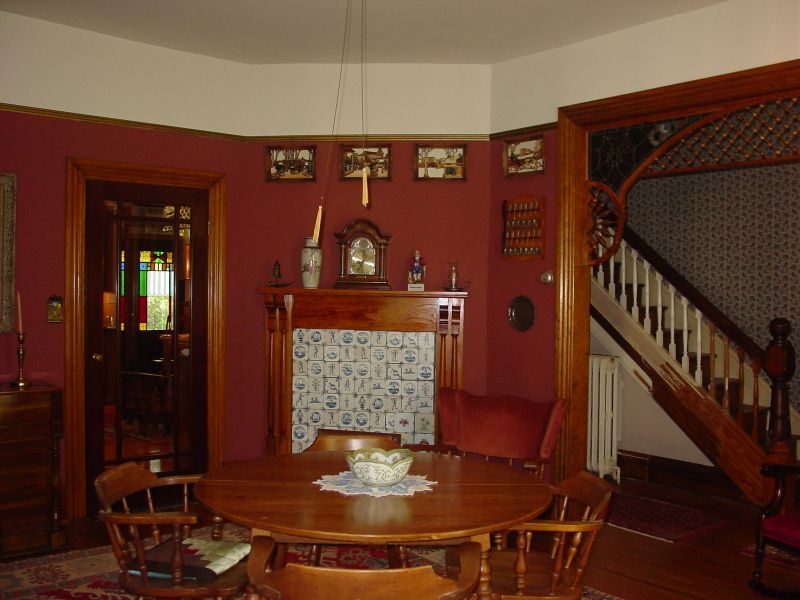 This area was recreated out of spare material from the kitchen.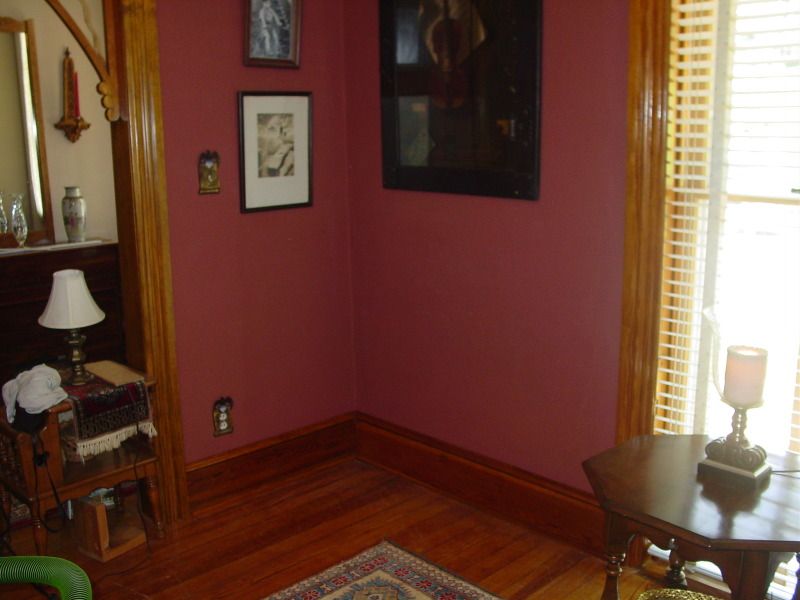 Casey
---
Posts: 848
Joined: Sun Mar 22, 2009 4:56 pm
Location: Junction City
Casey,
I noticed your light switches and wall outlets look unusual. Do you have a closeup or a story about those?
American Foursquare with Prairie and Colonial Revival influences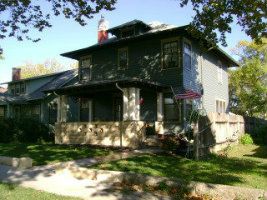 ---
Posts: 2189
Joined: Sat Sep 30, 2006 10:12 am
Location: WV
LOL, Yeah, those date from our 1976 Bicentennial craze where colonial themes last ran amok. They were bought by my dad and have been used in every family home since. They have the eagle and a quote from Jefferson (Thomas, not George). Only on a blank plate could the quote be really read, and on the duplex covers it's not at all clear, On the switch one can interpolate.
Okay, I googled the quote, and it turns out that the profit-minded souls that made these covers mis-attributed it; not Jefferson, but MacLeish, who was alive until 1982. He was a poet and the Librarian of Congress.


Freedom is the right to choose: the right to create for oneself the alternatives of choice. Without the possibility of choice and the exercise of choice a man is not a man but a member, an instrument, a thing.
-- Archibald MacLeish

So now I will hipster-like display them ironically.
Casey
---
How on earth does everyone keep their rooms so clean and uncluttered? These are some great photos.
---
S Melissa wrote:Yes, and Chris built most of those amazing details - If I recall that many years ago - amazing.

Here's my dining room. It is virtually in the center of the house. Originally I think the DR was what is now my kitchen and the present DR was the sitting room - but - not any more. The fixture was something I waited for for 25 yrs - I've not seen another like it!

The wallpaper in this room I put up about 19 yrs ago. The furniture is the defination of "ecclectic" - Belter DR Chairs; Regency DR Chairs; 1930 Grand Rapids Mahogany server/buffett/table - recently refinished and is so much better; and what I think is a mess of different pieces that were put together by an antiques store - fooled me until I got it home - then I could tell that the china cabinet was not original - but a bunch of unrelated pieces that had been married - I still like it - just not as much as I thought - and not for the price I paid - expensive lesson I guess.
This dining room looks really amazing!
247torontolocksmith.com
---
The dining rooms looks very elegant. But some of the paint colors are not good as dining room interior.
247torontolocksmith.com
---
---
Posts: 6
Joined: Tue Jan 14, 2014 9:02 am
Location: California
WOW, these looks so great and good. I am having an urge to immediately get one.
Designing the future.
---