Moderators: oldhouse, TinaB, Don M, Schag
Posts: 381
Joined: Tue Jan 17, 2006 6:25 pm
Location: Bridgeton, NJ
Contact:
I looked up what my roof was and it's indeed Desert Tan!
Three may keep a secret, if two are dead.
Circa 1921 Dutch Colonial Revival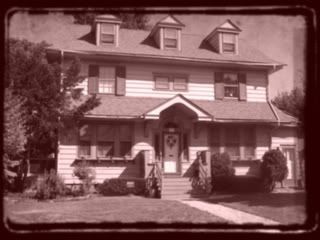 ---
Melissa,
I think you are right. I had to make the final decision last night and went with colonial slate. The colors from the paint site are very accurate to the actual colors. Although, I will be using less red than what is used in the photo. I stared at close-ups of colonial slate and sand dune for hours last night. I decided that colonial slate has the trim colors in it which should definitely match. On the other hand, sand dune had a lot of brown in the close up photo that can't be seen well on the photo I posted. I thought it may end up clashing with my house colors. I called the roofer and I think he was pretty happy that I finally made up my mind, I was supposed to let him know what color I wanted by Monday
He wants to put the roof on next week but it is supposed to rain every day
Hopefully it stays nice for at least one day! I had him order enough shingles to do the entire house but am only having him do the top roof. I will be stripping paint above the porch this summer and will be placing scaffolding on the roof, dont want to damage brand new shingles. Plus I can save some money in labor by doing it myself. Good thing I made that new infrared paint stripper, shouldn't take too long. Just have to finish painting the porch, on year number 4
Now if only my new wood lathe would hurry up and get here I can make my roof spires! Thank you all for your help!!!
Airgrabber, I think the color matches your house very well
---
You're very welcome! I'm glad to see this getting under way after all the hassles. By autumn you should have cars slowing down in front of your house to gawk.
MKD
---
BrantR

wrote:

↑

Sun Apr 17, 2011 9:38 pm

I am having trouble finding the right roof color to use. The roofer has recommended I go with desert tan. I can't decide if I like it or not. I kinda like colonial slate, but again am not sure if I like it. I also have thought about summer harvest. I have attached pictures below, tell me what you think. Also, let me know any other colors you think might look good roofing

annandale va

. If I knew choosing roof colors was going to be so hard I might have chosen different colors for the house. I have already started painting the house and really do not want to switch colors. (The house colors in the photo are not exact but as close as I could get with the visualization tool.)

Colonial Slate:

Desert Tan:

Summer Harvest:
We are choosing the shingles for a roof to be put on our home soon. We want to add solar panels to the roof soon thereafter. We understand that the efficiency of the solar panel can be effected by the temperature the panel is exposed to. We live in Atlanta, Georgia and have a south facing roof. Can you offer us advice about roof color to enhance our solar panel efficiency?
---