Before:
Today (11/5/08):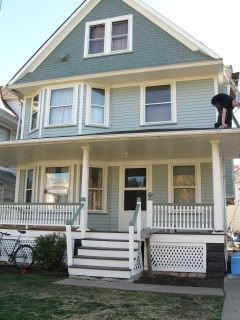 My house was attacked with aluminum siding in 1960. I HATE this aluminum siding. They covered ALL the trim...all of it except the exterior sills and even those were originally covered with aluminum. I was going to post about fabricating aluminum trim to retrofit this house, but a guy emailed me his quote.
Removal, scraping, caulking, priming /painting (with sherwinn williams duration) of my home plus the repair of a column base and small back porch floor and fascia board. Cost will not cover any repairs needed on wood siding. I am worried about the condition of the gable shingle siding. My granddad had the siding put on in 1960 when he felt some of those shingles need to be replaced...that and he didn't want to paint it again!
We took our porch to wood and repainted this summer, so that's not needed. They get to scrap the siding. Called this guy on recommendations of more than one person.
I am really tired of these before pics. I will post some before and after porch pics as soon as I get some more batteries.