Well I finally rememberered to take pictures while I was in the midle of a project, so I thought I'd post what I leaerned for anyone else faced with the same situation.
I am working on one of the bedrooms and the original wide plank floors were painted a couple of times around the perimeter of the room and in the middle there was never any finish applied.
Tools I'm using are the Silent Paint Remover, A 2 handed scraper with replaceable blade, and a contour scraper for tough spots. Since the paint is old and dried out I went around the room and painted a Boiled Linseed Oil and turpentine mixture onto the paint to rejuvenate it and put something in it that will allow the Silent Paint remover to work. The mix was 1part Boiled Linseed oil to 4 parts turpentine. I brushed the mixture on and then left it on for at least 24 hours before hitting it with the Silent paint remover. You want a fair amount of this mix on the paint, without putting so much on that you have puddles.
Then heat and scrape to remove the paint, and after scraping, go back over the floor with 120 grit sandpaper in a random orbital sander to achieve the finish you want. Pretty simple really.
Here's a couple of photos of the floor showing all stages - Painted, scraped, never finished and final sanded.
I also show all of the tools required to complete the job.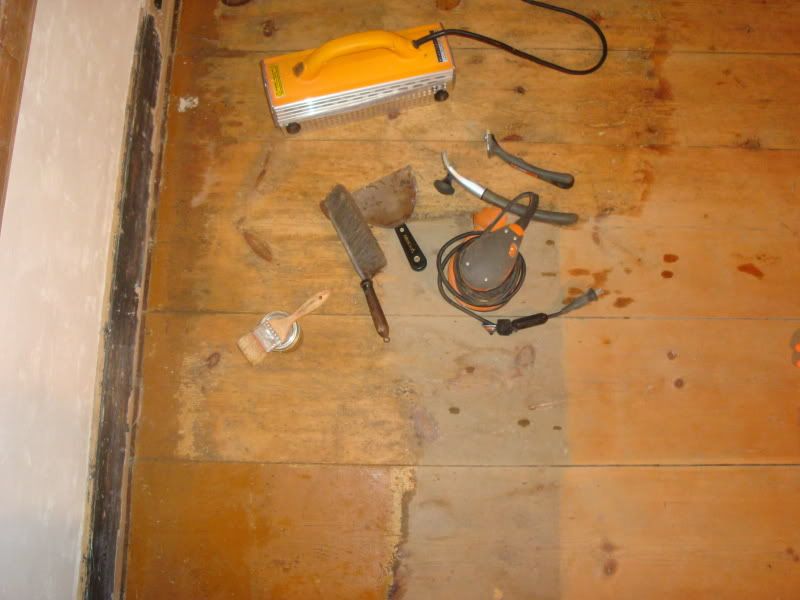 For a final finish I plan to use a natural tung oil.
Good Luck if you try it.
HB