Moderators: oldhouse, TinaB, Don M, Schag
Posts: 2196
Joined: Tue Aug 17, 2004 10:16 am
Location: Sciotoville, Ohio
Contact:
Thanks! It's a really nice door, especially for that price. I already have the hardware.

J.
---
Meanwhile, here's what I dealt with on the BACK door. When my lovely old house was used as a BOARDING house (sigh), some miscreant had removed the old colonial hardware and installed a DEADBOLT through the doorhandle. Then the flippers fixed that by putting one of those brass sleeves around the door knob area and putting in a modern, but-oh-so-ugly metal door knob.
When I pulled off the brass sleeve, this is what I found. A mess.
Outside: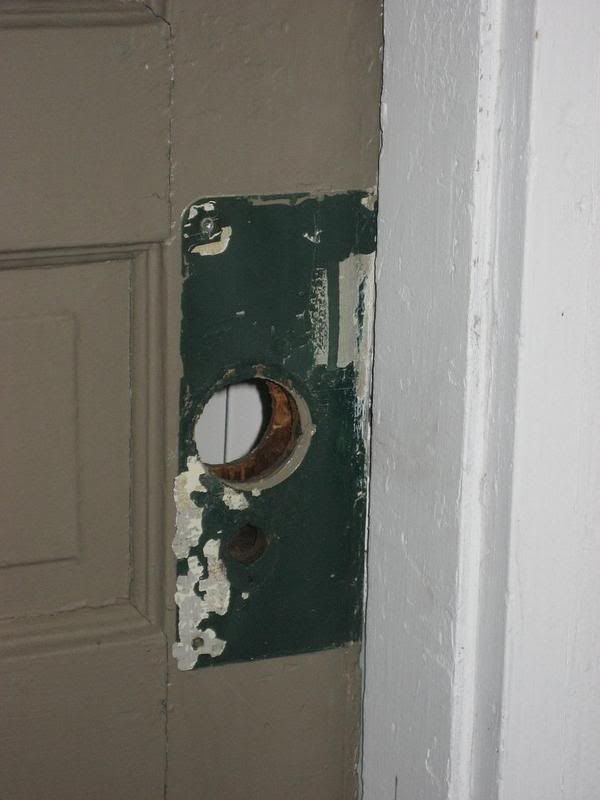 Inside: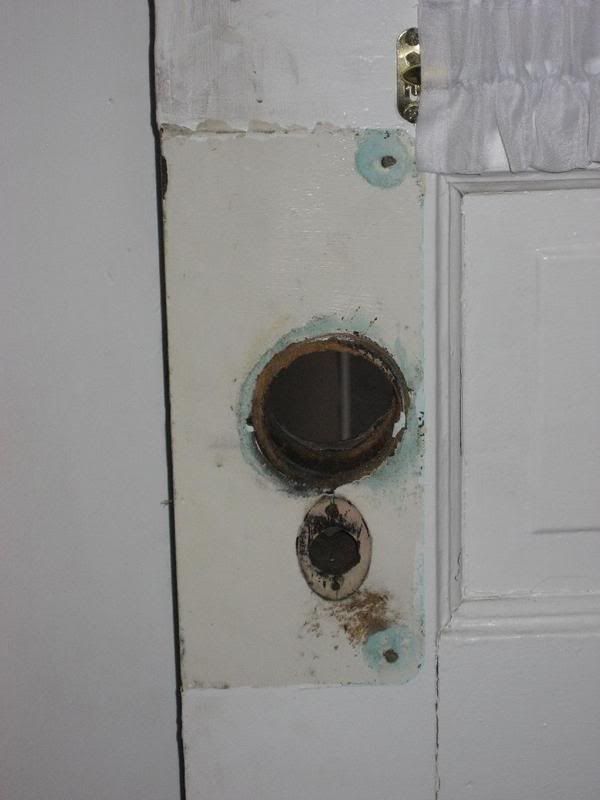 So then I had to go buy a mortise lockset at the old salvage shop and patch the gaping hole, over a period of several days.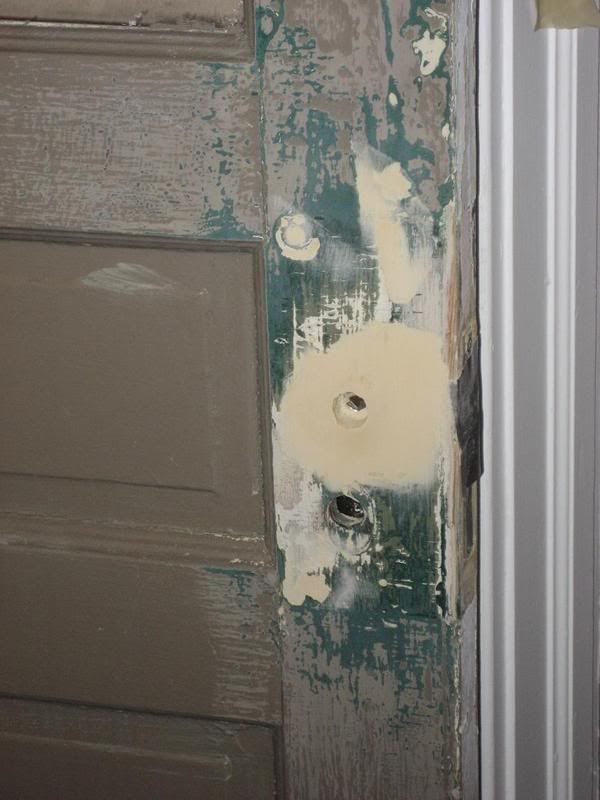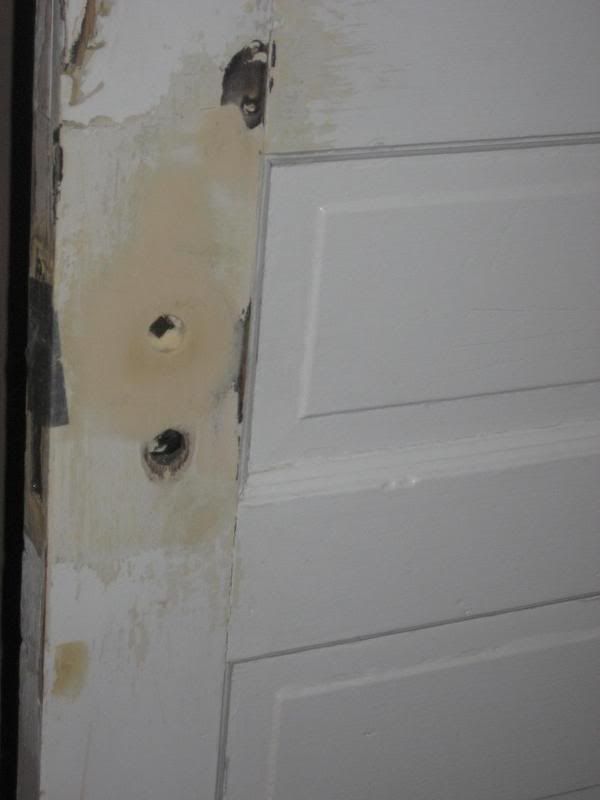 And then I had the good fortune to find this Colonial-looking escutcheon at the same salvage shop. Since it's for the back door, I figure a larger escutcheon won't be out of place.
Dirty:

Clean:
And now, it's DONE!!!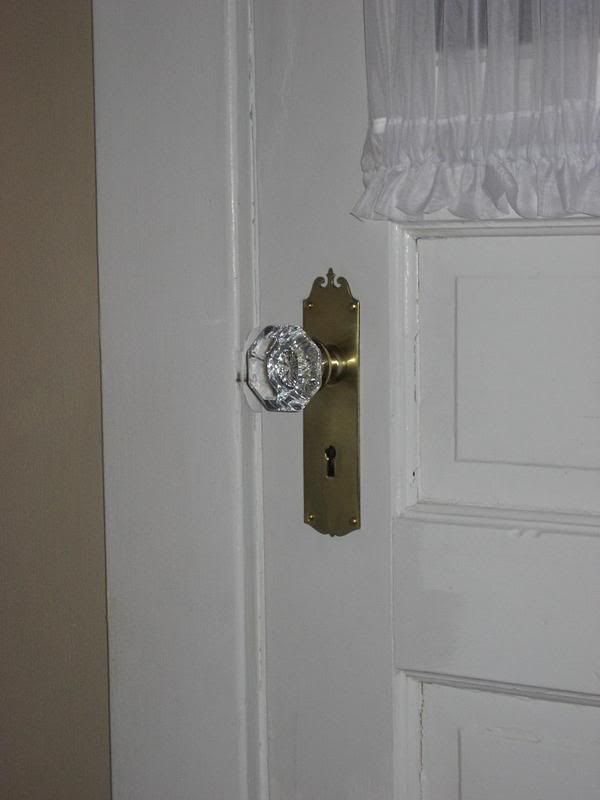 ---
Posts: 1497
Joined: Tue Nov 07, 2006 11:42 am
Wow! I never dreamed you could get the hardware to look that good by cleaning it! What did you use???? It looks fabulous with that door knob. Great job.
Diane
---
Posts: 1986
Joined: Sun May 13, 2007 8:22 am
Location: hawley massachusetts
Contact:
rmt, so what do you do in your spare time? hahaha!

both your new storm door and your repaired back door are gorgeous, or as my english mother would say gohr-dee-us.....

i am constantly impressed what folks on this forum take on and accomplish....thanks for sharing.....

...jade
---
Posts: 381
Joined: Tue Jan 17, 2006 6:25 pm
Location: Bridgeton, NJ
Contact:
Yeah, I'd like to know what you cleaned that hardware with too. I've been doing the boiling water and baking soda trick with varied success. Looks good and your storm door looks great!
Three may keep a secret, if two are dead.
Circa 1921 Dutch Colonial Revival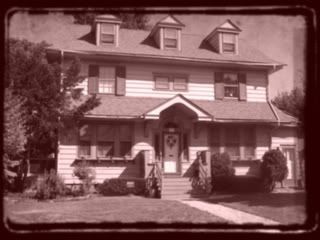 ---
Posts: 1222
Joined: Mon Jul 30, 2007 12:28 pm
Location: Macon Missouri
Contact:
My front door is exactly like your back door. I hope when we tackle it, it looks as good as yours! Turned out great!
Brandy
185? Italianate
Macon, Mo
---
I have tried different products for cleaning brass. I have a house full of door knobs with brass escutcheons and keyhole covers.

I use good old Brasso and steel wool. I let the brasso sit for five or ten minutes and then start scrubbing away. After I'm done scrubbing with the steel wool, I buff with a soft cloth. I've had amazing results.

Rose
---
Posts: 1222
Joined: Mon Jul 30, 2007 12:28 pm
Location: Macon Missouri
Contact:
Do you seal the clean hardware in any way?
Brandy
185? Italianate
Macon, Mo
---
Hi, what color stain did you use? Your door looks so beautiful, I want to try to recreate it for mine.
---