I LOVE your current bathroom with the wood floor and old fixtures. I agree with replacing the ugly medicine cabinet.
If your reason for replacing the toilet (which I think looks neat!) is because it doesn't work properly, or because it's not a "low-flush" type, there are easy fixes for both. For the first, you can just replace the interior workings (ball cock, valve, etc) for about 30$. To "convert" it to a low flush, just fill a 1L or 2L plastic bottle with sand or rocks, and sit it in the tank where it won't hook any levers/parts.
As for the sink, it looks amazing, and if you're worried about rusted out pieces, you can usually repair/replace them. But I think what you're saying is that the hole around the drain is rusted out. This still might be fixable, and you can always try it before you swap it.
As for the t-g, I would probably try to just scrape/clean the joints with something like a V-tool, and then clean it with vinegar/scrub brushes. IF the finish is dull and flaky, it's probably shellac, and can be easily fixed/refreshed/redone without stripping. This includes fixing flakes, "alligatoring", and other surface defects. There are about 1000 threads you can search about shellac.
For the floors: I agree that something like a b&w tile would look cool, but is there anything really wrong with the wood floor? I rarely ever get my floor wet, since I dry myself in the shower/bath before stepping out, but a simple floor rug (with a plastic underneath) would look nice, too. Or even a painted floor cloth on thick canvas. Just some ideas for you to ponder.
For storage, is there any place you can hang something like a small (preferable old) wall cabinet or shelf? Is there floor space for a narrow bookcase?
As for the medicine cabinet, I'd match your gorgeous "architrave" style door trim, and go with a 1920's style medicine cabinet: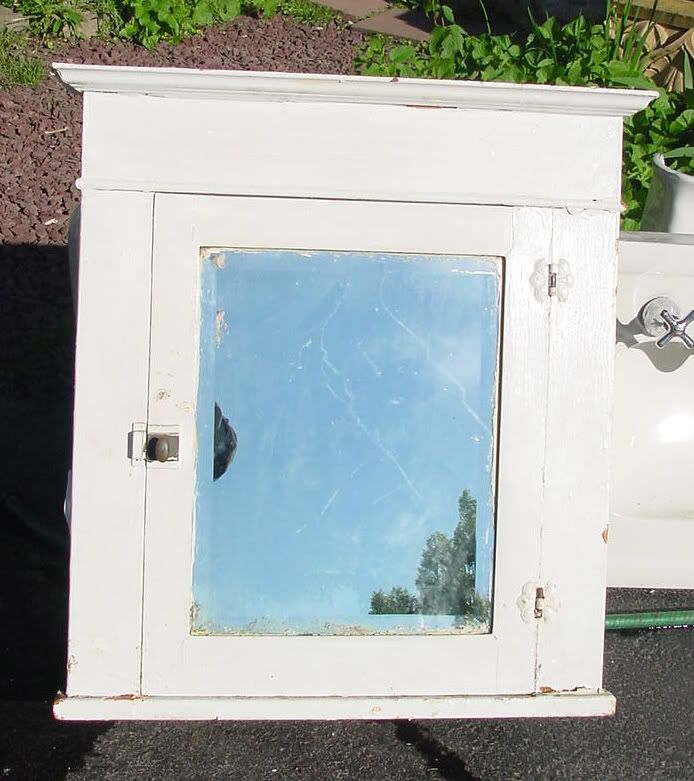 These can be bought pre-made for a few hundred bucks (which I find expensive), or you can custom make one with just a few pieces of trim. It's basically just a box with shelves and a decorative front. You could stain it to match your casings.