Moderators: oldhouse, TinaB, Don M, Schag
It's amazing what one can find; a friend found my cell phone number by searching me with my nick name!!
1840 Limestone Farmhouse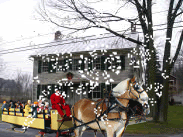 ---
It's very easy to find a treasure trove of information in this day and age.

I think I might snag GrandViewColonial.com. The tract of land the property is part of what was called Grand View Heights as per the deed.

Side note. Reading up on the colonial types, it's somewhat funny my Colonial Revival seems to take a page from the Southern Colonials design queues. The chimney is not central to the home, and the house can accommodate every cross breeze imaginable from the design. I really wish I could find an old picture or blueprint to the place to see how much has changed.
Circa 1930's Colonial Revival - Kingston NY
---
Posts: 399
Joined: Sat Feb 18, 2012 7:24 pm
Contact:
I tried searching online for the PO's names of the Cottage. Unfortunately the ones I was most interested in seem to have passed on with no relatives I can locate. The woman bought it with her frist husband in the 50's, he passed, she remarried then she passed in the 70's, and he in the late 80's. I believe she's the one that did the landscaping I'm trying to revive. I'd love old pics but the obits I found, along with the deed, didn't mention kids, so I'm stuck. I did post on CL with some particulars to see if anyone would bite with the addy and more info, but so far I've gotten no replies.

The Cottage isn't particularly special in any way, so I don't imagine the historical society would have anything-have you tried yours? The library might too.

Carpenter ants go out looking for new spots in the spring, then will "go into hiding" for a while, making you think they are gone when tehy aren't. We had pretty good luck with Amdro after having a pest company treat for them, AND dealing with the problem area they were interested in to begin with (neighbors that don't take care of their property having nests that would send scouts).
The Cottage Blog:
http://eclecticcottage.blogspot.com/
Current home: 1950's Summer Cottage turned year round home (the Cottage)
-@ 700 sq ft, heated with a wood stove, on the shore of Lake Ontario
Previous home: 1920's Vernacular (the Old House)
---
Have you looked for mark lumber in the basement or crawl space?
I see some "signs" that it could be a kit home, but it does NOT match any Sears House designs.
BTW, that is a "Colonial Revival."
Rose Thornton
http://www.searshomes.org
---
There seems to be enough inconsistencies that makes me think this is not a kit. The foot boards, the slight inconsistent sizes of the door/window trim, the fact that the ground floor is 8' 6" high while the second is 8'.

We are nearing 3 months of ownership, unfortunately my extra money pool for the year is exhausted. First the oil heater, then we had to get a new fridge after the original one here (circa late 70s to early 80s) decided to hardly work.

Our original plan for next year was the kitchen, but I may change that up to do Central Air and another smaller project. I sprung for two small A/Cs for the two main bedrooms yesterday. Last heat wave the rooms got to 92.

No other major surprises thus far. Still contemplating future floor plans.
Circa 1930's Colonial Revival - Kingston NY
---
Check in on our house. A little over 7 months of ownership, 6 months of living in it. We love the house but we have noticed a ton of things that needs to be addressed at some point, and we are assessing what deserves to be top priority. Here is my big cheecklist so far.
Kitchen redo. We knew the kitchen was going to require serious attention from day one. The cabinets are in very rough shape and are generally unusable. There is some previous water damage that is now more exposed in cracks in the ceiling. The general layout does not really work out well. However given the cost of this, we are going to do just minor repairs until we can afford the 20k-30k that will be needed. When it gets redone we are keeping the same feel of the current kitchen, white cabinetry (hopefully custom cabinets), we may keep the deep kitchen sink, but we need to make it more usable.
Front porch rehabilitation. We thought that the front porch could just use some TLC, but it's in rough shape. About the only solid and beautiful thing is the wainscoting on the ceiling of the porch that will hopefully get reused. Looks like the porch was an add-on some time in the 60s - 70s. There are only two houses on the street that continue the clapboarding onto the porch, and honestly I really don't like it. All the other porches use more "typical" rail designs. Still on the fence on what to do with this.
Windows. The windows are really a mixed bag. We have a couple descent shape windows on the frames, but most others have some serious cracking problems, some of the counterweights are broken, the window sizes themselves are of varying widths. Unsure what to do at this point. Would love to replace with new wood windows and keep the 6-over-1 design but I can only imagine the cost to replace. Every window in the house has at least one piece of glass with a crack in it.
Clapboarding. In general it's from OK to poor shape, with most pieces being fair. Curious if we can match up clapboarding to get the similar texture of the original work. Will not replace with vinyl that is for certain (and there are only 3 homes on the street that has wood clapboarding, everyone else went total vinyl replacement).
Floors and Stairs. Floors are beautiful Oak that need some TLC. A few boards need to be replaced, but to our surprise the wood is in excellent shape. The stairs are a bit rougher. Looks like they painted around a previous runner thus the two tone white on it. The stairs are stained a very dark color, not like anything else in the house. The closest is the wood in our dining room built in surface.
Central Air. The house unfortunately was almost unlivable. The upstairs got to 92º and the doors were literally sweating when clashing with the two small A/Cs that we put in the two big bedroom windows. Central Air has been promoted to a 2013 project.
Power. We have a maxed 100A panel that also has some rust on the back. No GFI in the house, and a mix of flex wiring and cloth wrapped 2-wire. We have a great puzzle of wiring, for instance our study, living room, bed #3 and bed #4 are all on the same circuit. Yeah that needs to be remedied. Was supposed to be a 2012 project, but thanks to money, heat, and time, will be a 2013 project. The goal is to try to replace all the wiring. I will likely run CAT-5 as well and do some nice coverings for everything.
Walls, ceiling, insulation. I have a number of cracks in the lathe and plaster, and general imperfections that makes me wonder what should be done. I don't think there is much, if any, insulation in the house. I can't even imagine the work that would need to be done to get this done right. I'm spending $400/mo in oil fired forced heat now that it has gotten cool, can only imagine when an Alberta clipper comes through.
Usable space. We have very small baths. No cabinets, only one outlet per room on the pull lamps. The kitchen does not have a pantry, nor is there a bath on the 1st floor. It's because of this I am considering a bump out on this wall to accommodate 4' extension to the rear of the house, and make this more usable. I have toyed with designs to keep with the modern colonial design to keep things symmetrical, and build out only on the non-front facing side of the house. But this is a huge undertaking. If I were crazy enough to do this, the bump out would occupy where the rear porch is right now.
So much to do. Anyone have winning lottery numbers?
Circa 1930's Colonial Revival - Kingston NY
---
Looks & sounds like you are doing a good thoughtful job in developing a plan to go by rather than jumping into everything all at once. I would really consider repairing your existing windows rather than replacing them. Replacing weight cords is not difficult & I bet a lot of the cracked glass may be due to broken ropes that allowed the sash to slam down?! Make sure you have good insulation in the attic where you will lose the most heat. Also tighten up storm windows, doors & stop any air leaks with caulk.
1840 Limestone Farmhouse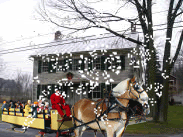 ---
I would love to insulate the attic, but it presents it's own challenges. The bonus room obstructs 1/2 to 3/4 of the roof area so I am trying to figure out how to work around that.
Circa 1930's Colonial Revival - Kingston NY
---
You can simply roll out insulation on the floor but that makes using the attic for storage a problem. Is there any insulation under the attic floor in between the 2nd floor ceiling joists? That would be the best place to have insulation. Another possibility is installing styrofoam or plastic baffles between the roof joists then insulation w/ vapor barier below that. This would also require soffit & roof ridge vents to allow cool air circulation along the roof sheathing. There are drawbacks for each of these.
1840 Limestone Farmhouse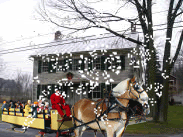 ---
As far as I discovered there is no insulation in the house at all, except for the insulation in the partially finished room in the attic. There may be some newspaper-grade stuff in the walls but nothing that I have seen so far.

There are no soffit vents, however there is a gap in the roof line that could be considered a pseudo-soffit. I was about to go with baffles/insualation/barrier but I have the issue of getting acccess to the part of the roof that the bonus room is at.
Circa 1930's Colonial Revival - Kingston NY
---