Moderators: oldhouse, TinaB, Don M, Schag
I started stripping the wood on the windows of the bedroom I've been working on. Unfortunately the wood on the sills is just baked and is really too rough to try to stain and save, all I could do is put lipstick on a pig. They also replaced a closet door and baseboard trim with new pine while the rest of the trim is very old oak, so that would look out of place as well. Do they make paint that looks like wood so I can just repaint and still have the wood look?
---
Brown paint?

Why not sand/stain the sills and use stain to match the oak?
---
They're in too bad of shape to try to sand and stain, I see why they painted them now.
---
Moderator
Posts: 1948
Joined: Mon Jan 03, 2005 3:01 pm
Location: North Little Rock, AR (Park Hill)
Contact:
You can buy what's called a Graining Tool to make paint have a wood grain look.
It takes practice to do it right though.
---
Posts: 2189
Joined: Sat Sep 30, 2006 10:12 am
Location: WV
There's graining: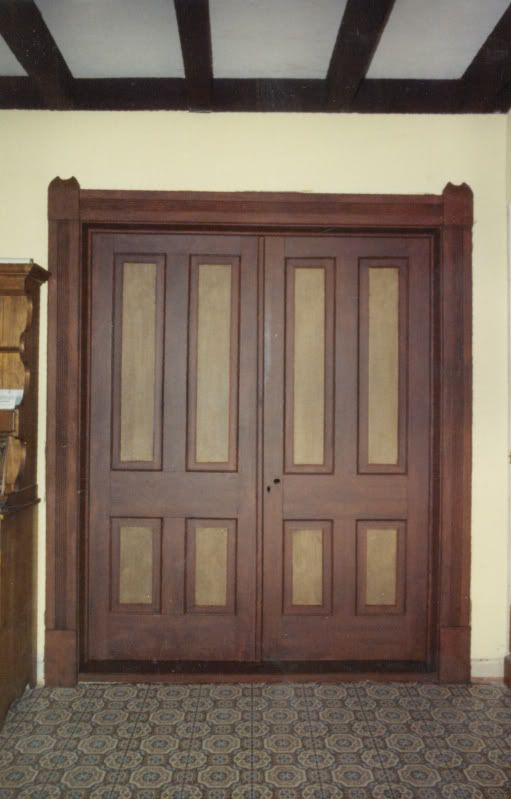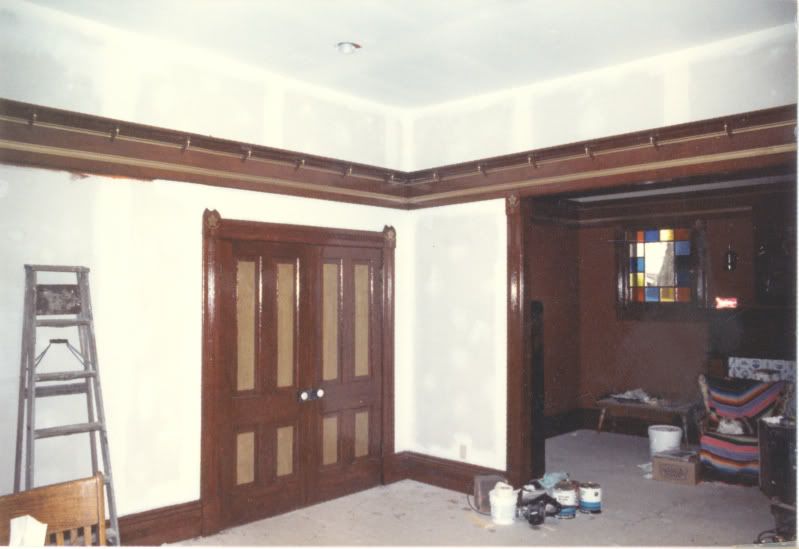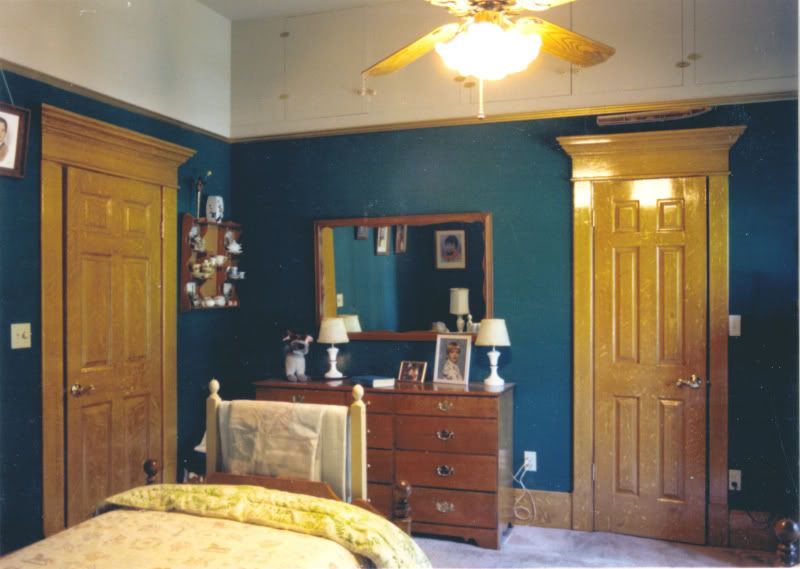 2 examples of some I did a long time ago at my parent's house.
Casey
---
That's exactly what I was looking for thanks! I knew it could be done, I had seen it before, but I had no idea how it was done. Is that a Menards or an online purchase?
---
Moderator
Posts: 1948
Joined: Mon Jan 03, 2005 3:01 pm
Location: North Little Rock, AR (Park Hill)
Contact:
You should be able to find one at any paint store.
It probably wouldn't hurt to get a How-to book on it as well.
---
In that case I definitely will. Thanks for all the help! I have to have this all done before the bed frame is finished in 4 weeks, I was starting to get worried.
---
When my grandmother paneled several rooms in the late 50's, early 60's, she had the trim and windows painted to match. And that's exactly what it looks like. Just wood painted brown. It would have looked better painting a contrasting color instead of trying to make it look like the other wood tones.
I have one of the wood graining tools. I think I bought it at Home Depot or another hardware store. You'll usually find it with the other supplies for faux finishing. It seems like I might have paid $5-6 for it, but it's been a long time. I was working on a ratty piece of furniture at the time ("trying to put lipstick on a pig", as you said
), and wasn't very successful at it. I never used it for anything major or important, so I can't advise you on how well it might really work with some practice and experience.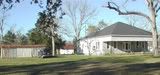 My great-grandparents' 1913 farmhouse
Too bad the spam got so bad. Some of us have been spending time at the new community for folks with a love of old houses at wavyglass.org
---
it does take quite a bit of practice. i do mine freehand..... the graining tool always looks like...... a graining tool.
the ones i tried would only simulate pine, not oak. that was a while ago, perhaps now they have ones for different wood types?

---