Today, I worked on demolition in the bathroom, and I'm still not sure if I'm done.
Last week, I had a plumber come out to inspect the house, and give me an estimate to fix the plumbing. At the time, I thought most of the work would be replacing the supply lines. I naively assumed that only the straight runs of the cast iron drain piping had to be replaced.
I assumed this, and the straight run in the basement, were the only damaged pieces. (this is the back parlor, BTW)
I had taken out the rusty, cracked pipe in the picture above up to the ceiling late last year. But, when the plumber looked up during his visit last week, he noticed that there was more damage above that. Uncovering that damage is what I did today.
The pipe from the first floor is on the right. The toilet/sink/bath drains connect to this piece. There was an "S" bend connecting this to the vertical pipe on the left.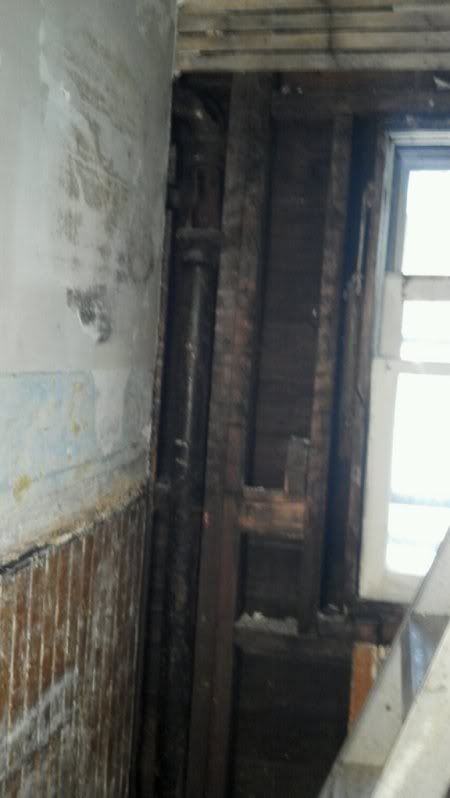 Toward the top, there is a "T"--with the side rotted out--that receives the vent for the toilet and/or sink. Above that, is another "S" that leads to, what I think/hope is, the final run of the vent through the roof.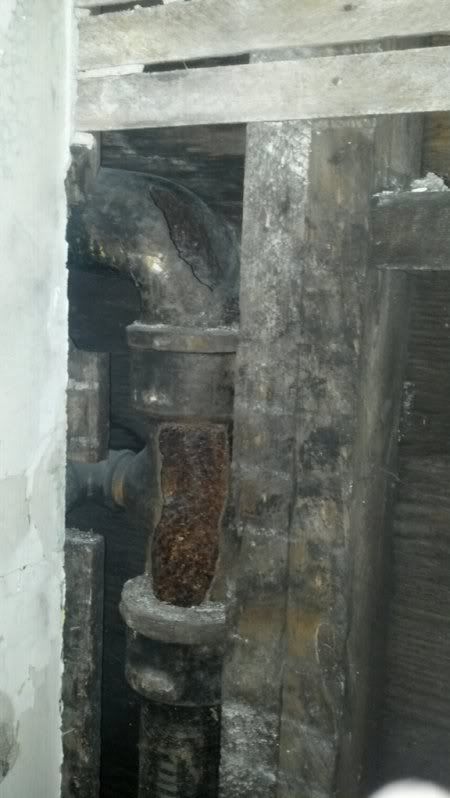 A close-up of the "T" and "S." They both need replaced, and I'm worried that I'll have to remove more plaster to get better access to everything.
I posted most of this in my progress thread. But, the reason I'm starting a new thread is because I have no knowledge about working with cast-iron, and am wondering how much, if any, of this can be saved. Will I have to start smashing plaster in the bedroom to gain access to the final stretch of pipe through the roof? Should I take out the bathroom wall where the toilet and sink go, to be sure their individual vent pipes are intact? Will I have to take up the floor (or remove part of the back parlor ceiling) to make sure the drain from the tub is OK?
The plumber will come back, of course. And, I'll get a couple more estimates. But, they are going to be more likely to say "rip it all out" than the posters here.
Thanks in advance for any thoughts.