Moderators: oldhouse, TinaB, Don M, Schag
Posts: 848
Joined: Sun Mar 22, 2009 4:56 pm
Location: Junction City
Kansas is having a vote on Feb. 18. We are on the list for the Register of Historic Kansas Places and the National Register of Historic Places. I'm so excited and wanted to share with you all. Our category is American Foursquare. Nobody famous lived here but the house is 100 and intact. Plus, I'm a researcher so I did all the legwork. In this state, besides bragging rights, we should get some tax credits from Kansas for qualified projects over $5,000.
American Foursquare with Prairie and Colonial Revival influences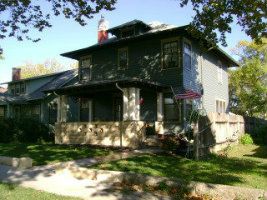 ---
Posts: 260
Joined: Mon Apr 09, 2007 9:24 pm
Location: Central Illinois
Congratulaltions Kansas. 1911., all your hard work paid off. I'm so happy for you.
Susan
---
Posts: 2977
Joined: Sun Mar 05, 2006 10:52 pm
Location: Boothwyn, PA
Contact:
This is wonderful news. Congratulations! I've always wondered how easy or difficult the National Register application process is.
---
Posts: 239
Joined: Fri Mar 13, 2009 2:11 pm
Location: Queens, New York
Congratulations! Good work!
Carolyn
---
Congratulations, from one foursquare owner to another.
The Opposite of Love is not Hate, But Indifference!
---
Congrats on the register prospects. Went thru all that in 01 and 02. Its a lot of work but worth it. I like your state program better than ours. We have to spend 25K to qualify for it.
Locust Quarter, circa 1770 Georgian Gambrel roofed cottage.
---
Posts: 193
Joined: Mon Feb 26, 2007 12:37 pm
Location: Winchendon, Mass
Congrats to you!! I am in the process of that and I know its TONS of work. Woohoo!!!
Don O'Neil
'The Orange Whitney House - 1896'
Winchendon, MA
---
Posts: 1497
Joined: Tue Nov 07, 2006 11:42 am
You are so right to be excited and proud. Way cool!
Diane
---
Posts: 122
Joined: Mon Jan 23, 2012 12:39 pm
Location: Colorado
Contact:
That's awsome! Congrats Kansas! It's like a child graduating college or something
Do you get a plaque?
---
Posts: 1222
Joined: Mon Jul 30, 2007 12:28 pm
Location: Macon Missouri
Contact:
Congrats!! How exciting for you!
Brandy
185? Italianate
Macon, Mo
---